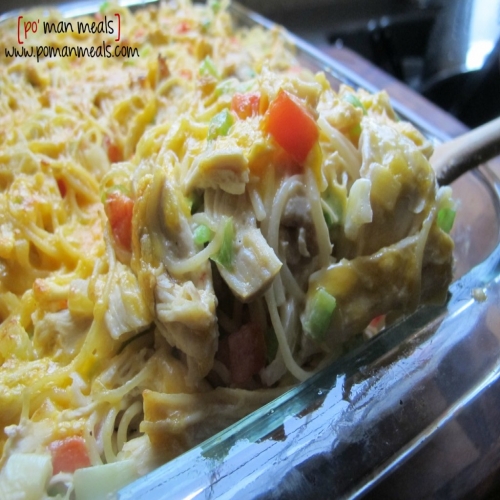 Prep Time:

15 Minutes

Cooking Time:

1 Hour 30 Minutes

Serves:

8 Servings
Baked Cream Cheese chicken spaghetti
Category: Chicken, Main Dish, Cheese
Ingredients List
3 bone-in, skin on chicken breasts -
1 lb package spaghetti noodles -
1 (8 ounce) package cream cheese -
1 small onion - chopped
1 small bell pepper - chopped
1 large beefsteak tomato - chopped
2 cups cheddar cheese - divided
Directions
1. preheat the oven to 375 degrees. lightly spray a 9 x 13 casserole dish with cooking spray. set aside.

2. you can find a 9x13 casserole dish similar to the one i used here.

3. in a large stock pot, add the chicken breasts. cover them by several inches with water and season the water with salt/pepper to taste. i used bone-in, skin-on chicken for a richer stock. feel free to use boneless skinless chicken, if you choose.


4. bring to a boil. allow to boil for about 30 - 40 minutes or until the chicken is cooked through.


5. remove the chicken from the water to a cutting board. carefully remove the chicken from the bone, discarding the bones and skin. shred the chicken into bite size strips.


6. bring the stock back to a boil and add the pasta. cook according to the package instructions to al dente. please do not overcook the pasta since it is also going into the oven. drain the pasta into a bowl, reserving the chicken broth the pasta was cooked in.



7. meanwhile, add the cream cheese to a small sauce pan. add in 2 ladle fulls of the reserved chicken broth to the pan and cook over medium heat. whisk until the mixture is smooth. set aside.

8. in a large bowl, add the reserved hot noodles, reserved shredded chicken, onion, bell pepper and tomato. if you don't want your veggies to have some bite, saute the onions and peppers in a little bit of olive oil before adding them to the mixture.

9. pour in the cream cheese mixture.

10. add 1 cup of the cheddar cheese and 3/4 cup of the reserved chicken stock. toss until combined. if you need to add more of the reserved stock to make the pasta more moist, by all means! taste the mixture and season with salt/pepper, if needed.

10. pour the mixture into the reserved 9 x 13 baking dish.

Recipes by Course
Recipes by Main Ingredient
Recipes by Cuisine
Recipes by Preparation
Recipes by Occasion
Recipes by Dietary