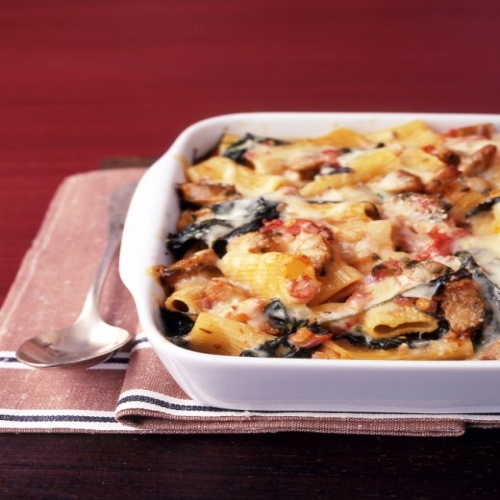 Prep Time:

30 Minutes

Cooking Time:

45 Minutes

Serves:
Baked Pasta with Chicken Sausage
Category: Cheese, Sauces, Pasta
Ingredients List
Coarse salt and ground pepper
1 tablespoon olive oil
1 medium red onion, chopped
4 cloves garlic, minced
1/4 cup vodka (optional)
1 can (28 ounces) whole tomatoes with juice, lightly crushed with hands
1/2 teaspoon dried oregano
1/2 cup heavy cream
1 pound rigatoni
10 ounces baby spinach
12 ounces smoked chicken sausage, halved lengthwise and sliced 1/4 inch thick
6 ounces fontina cheese, 4 ounces cut into 1/2-inch cubes and 2 ounces coarsely grated
1/4 cup grated Parmesan cheese
Directions
Step 1
Bring a large pot of salted water to a boil. Heat oil in a large skillet over medium heat. Add onion; cook until translucent, about 3 minutes. Stir in garlic. Remove from heat; add vodka, if desired. Return to heat; cook until almost evaporated, 1 minute.

Step 2
Stir in tomatoes and oregano; cook until tomatoes are falling apart, 10 to 15 minutes. Add cream; cook until warmed through, about 5 minutes. Season sauce with salt and pepper.

Step 3
Meanwhile, preheat oven to 400 degrees. Cook pasta in the boiling water until al dente, according to package instructions. Add spinach, and cook just until wilted. Drain, and return contents to pot.

Step 4
Add tomato sauce, sausage, and cubed fontina to pot; toss to coat. Season with salt and pepper. Divide evenly between two shallow 1 1/2-quart baking dishes.

Step 5
Top with grated fontina and Parmesan. Bake until browned and edges are crisp, 20 to 30 minutes.

Recipes by Course
Recipes by Main Ingredient
Recipes by Cuisine
Recipes by Preparation
Recipes by Occasion
Recipes by Dietary