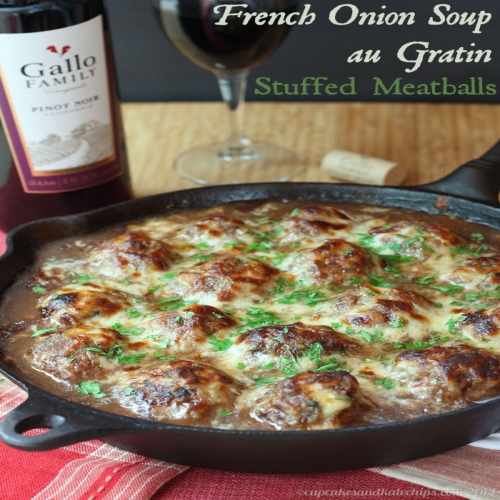 Prep Time:
Cooking Time:
Serves:

4-6 servings
French Onion Soup au Gratin Stuffed Meatballs
Category: Beef, Healthy Recipes, Main Dish
Ingredients List
~~~~~ For the onions ~~~~~
1 Tablespoon olive oil
2 onions, halved and thinly sliced
½ Tbsp fresh thyme or ½ tsp dried thyme
1 teaspoon salt
½ teaspoon pepper
½ Tablespoon fresh thyme or ½ teaspoon dried thyme
¼ cup beef broth
¼ cup red wine (I used Gallo Family Pinot Noir)
~~~~~ For the meatballs ~~~~~
1 ½ lbs ground beef
¼ cup bread crumbs or ground oats (gluten free, if needed)
1 Tablespoon minced fresh parsley
1 teaspoon pepper
1 teaspoon kosher salt
1 egg
8 oz mozzarella cheese (about 1-2 oz into sixteen appriximately half-inch cubes, to stuff the meatballs, the remainder shredded)
½ Tablespoon olive oil
Fresh chopped parsley for garnish, optional
~~~~~ For the sauce ~~~~~
1 ¾ cup beef broth
¼ cup red wine (I used Gallo Family Pinot Noir)
2 Tablespoons cornstarch
salt & pepper, to taste
Directions
For the onions:
1. Heat oil in a skillet over medium, add onions, salt & pepper, cook 15-20 minutes, stirring frequenlty or until caramelized.
2. Add thyme, sauté for minute or two, then add the wine and beef broth.
3. Reduce until very little liquid remains.
4. Set aside.

For the meatballs:
5. Combine all ingredients except the cheese in a large bowl, and gently combine with your hands.
6. Divide the meat mixture into sixteen equal pieces.
7. Take one piece of the meat mixture and flatten slightly into a patty. Place about a half tablespoon of the onions and one cube of cheese in the center of the patty and wrap the meatball around the onions and cheese, sealing as best you can. Repeat with the remaining meat, onions, and cheese cubes.
8. Preheat your oven to 375°F.
9. Heat the oil in a skillet over medium high heat. Add the meatballs and brown on all sides.
10. Whisk together the sauce ingredients and pour over the meatballs. Place in the oven and bake for 15-20 minutes. If you are not using an oven-safe skillet, transfer to a casserole dish before pouring over the sauce.
11. Sprinkle the shredded cheese over the meatballs and return to the oven for another 15-20 minutes, or until cooked through, then place under the broiler for 2-3 minutes, or until the cheese is browned and bubbly.
12. Garnish with fresh parsley, if desired.

Recipes by Course
Recipes by Main Ingredient
Recipes by Cuisine
Recipes by Preparation
Recipes by Occasion
Recipes by Dietary