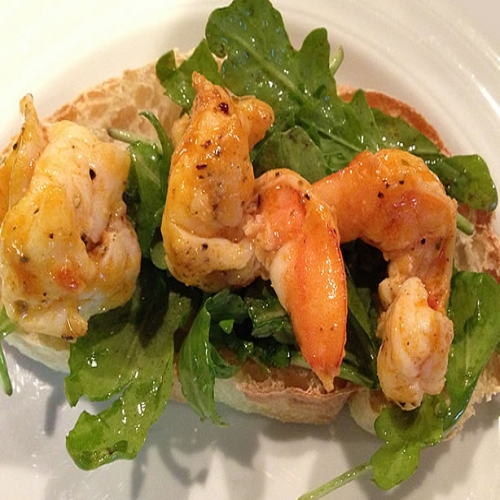 Prep Time:

25 Minutes

Cooking Time:

5 Minutes

Serves:
5 Minute Spicy Garlic Shrimp Recipe
Recipe Submitted by

Pasta

on

05/29/2014
Category: Healthy Recipes, Seafood, Quick & Easy
Ingredients List
1/2 lb 16-20 or U-15 shrimp (Pre-cleaned)
3 tbsp and 2 teaspoons of olive oil (You can also use avocado oil)
1/2 whole lime (If you don"™t like lime use lemon)
1 tbsp butter (Stick of butter"¦not margarine!)
2 tbsp Franks Red Hot Sauce (or something similar)
1 hand full baby arugula (Skip it if you don"™t like it!)
1 tsp lemon juice
1 loaf ciabatta bread (Use a fresh loaf)
1/2 tsp minced garlic (Chop up one clove or use pre-minced garlic)
sale and pepper to taste
Directions
1. Thaw out the shrimp if frozen by running cool water over them for a few minutes.

2. Set your oven to 350.

3. After the shrimp are thawed out, remove the shells if they are attached and filet the shrimp in half lengthwise. Hopefully you bought shrimp that were already cleaned and de-veined!

4. Heat up a pan or wok over medium high heat with 3 tablespoons of olive oil or avocado oil. Should only take 2-3 minutes.

5. Mix together 2 teaspoon of olive oil and 1 teaspoon of lemon juice and add salt and pepper to taste. Whisk together really well.

6. Toss in shrimp into the pan and stir for 1 minute.

7. Put your ciabatta bread into the oven and lightly toast. Do not brown the whole thing like toast, you just want a nice light crunch here to the bread.

8. Add butter, Franks hot sauce (or Shultz"™s Spicy Original cooking hot sauce or something similar), the juice of half a small lime and minced garlic to the shrimp that is cooking.

9. Stir all together until there are no grey parts of the shrimp for another minute or two. When you think it"™s ready, taste one of the shrimp and see if it"™s seasoned enough and has enough kick to it. If so, remove from pan.

10. Add arugula and dressing to a bowl and mix together well. Don"™t forget to whisk your olive oil/lemon juice once again before you put it into the arugula.

11. Top the ciabatta bread with arugula and top that with the shrimp.

12. Voila. Time to devour.
Recipes by Course
Recipes by Main Ingredient
Recipes by Cuisine
Recipes by Preparation
Recipes by Occasion
Recipes by Dietary