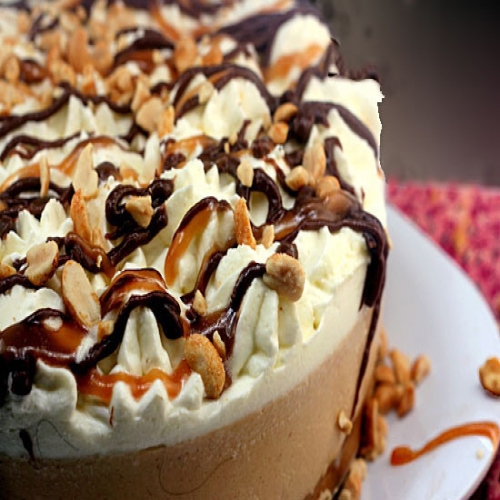 Prep Time:
Cooking Time:
Serves:

10-12 servings
A Peanut Butter Pie For Mikey with Chocolate Cookies
Category: Dinner Party, Gifts, Kids, Holiday, Pies
Ingredients List
~~~~~~ Creamy Peanut Butter Pie ~~~~~~
8 ounces chocolate cookies (I used peanut butter cookies)
4 tablespoons butter, melted
4 ounces finely chopped chocolate or semi-sweet chocolate chips (I used milk chocolate plus 1 tablespoon butter and 1 tablespoon corn syrup)
1/4 cup chopped peanuts (I used salted peanuts)
1 cup heavy cream
8 ounces cream cheese
1 cup creamy-style peanut butter
1 cup confectioner"™s sugar
1 14-ounce can sweetened condensed milk
1 teaspoon vanilla extract
1 teaspoon freshly squeezed lemon juice
~~~~ Thick Milk Chocolate Ganache Drizzle ~~~~
4 oz good quality milk chocolate, chopped
1/3 cup heavy cream
1 tablespoon light corn syrup
Directions
For Creamy Peanut Butter Pie:
1. Add the cookies to the bowl of a food processor and pulse into fine crumbs. Drizzle melted butter through feed tube until moist and you can press clumps together easily. Press mixture into the bottom of a 8-inch springform pan (the original recipe calls for a 9-inch springform pan and for the crumbs to be pressed 1-inch up he sides of the pan).

2. Melt the chocolate, butter and corn syrup in a double boiler or in the microwave. Pour over bottom of cookie crust and spread to the edges using an off-set spatula. Sprinkle chopped salted peanuts over the melted chocolate. Place pan in the refrigerator while you prepare the filling.

2. Pour the heavy cream into a bowl and beat using a stand mixer or hand mixer until stiff peaks form. Transfer to a small bowl and store in refrigerator until ready to use. Place the cream cheese and peanut butter in a deep bowl. Beat on medium speed until light and fluffy. Reduce speed to low and gradually beat in the confectioner"™s sugar. Add the sweetened condensed milk, vanilla extract and lemon juice. Increase speed to medium and beat until all the ingredients are uniform and filling is smooth.

3. Stir in 1/3 of the whipped cream into the filling mixture (helps lighten the batter, making it easier to fold in the remaining whipped cream). Fold in the remaining whipped cream. Pour the filling into the prepared springform pan. Drizzle the melted chocolate on top, if using, and refrigerate for three hours or overnight before serving.

Note "" I whipped up a pint of heavy cream with 1/4 cup powdered sugar and 1 teaspoon vanilla extract and piped it on top of the pie, drizzling it with some caramel and chocolate sauce I had in my fridge.


----------------------------------------------------------------------------------------------

Thick Milk Chocolate Ganache Drizzle:
1. Heat cream until boiling. Pour over chopped chocolate and let sit for one minute then stir until fully melted, shiny and uniform.

2. Stir in corn syrup and pour into a squeeze bottle or just drizzle over pie with a spoon. Pass around remaining ganache for extra drizzles on slices of pie.

Note: I topped the pie with 1 1/2 cups of heavy cream whipped with about 1/4 cup confectioner"™s sugar, then drizzled on the thick milk chocolate ganache, homemade caramel, and chopped, salted peanuts. I also froze it for about a half hour prior to taking photos and serving, which is why it looks so smooth. Best NOT frozen "" amazingly creamy.
Recipes by Course
Recipes by Main Ingredient
Recipes by Cuisine
Recipes by Preparation
Recipes by Occasion
Recipes by Dietary