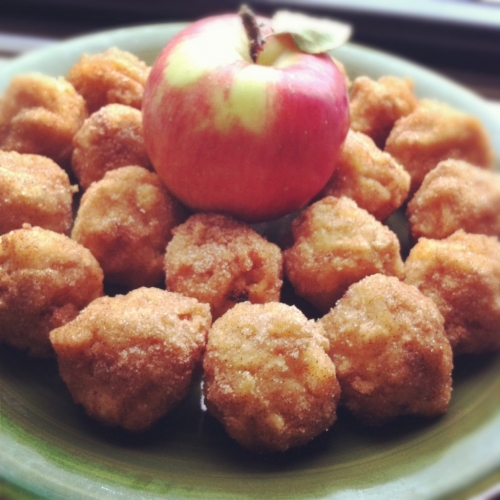 Prep Time:
Cooking Time:
Serves:

Makes about 55 golf ball-size cake balls
Category: Apples, Cakes, Pies
Ingredients List
~~~~~~ Filling: ~~~~~~
3 Granny Smith apples, peeled, cored, and cut into 1/4-inch dice
3 red apples, such as Cortland or McIntosh, peeled, cored, and cut into 1/4-inch dice
1 cup sugar
1 teaspoon ground cinnamon
Pinch of nutmeg
2 tablespoons unsalted butter
~~~~~~ Toppings: ~~~~~~
1/2 cup sugar
2 teaspoons ground cinnamon
3/4 cup toasted walnut halves, finely chopped
1 batch Yellow Buttermilk Cake, baked, cooled, and crumbled
1 batch Confectioners"™ Sugar Glaze, prepared right before using
55 miniature fluted paper cups (optional)
Directions
1. To make the filling: Toss Together the apples, sugar, cinnamon, and nutmeg in a bowl until combined. Melt the butter in a large, wide sauté pan. Add the apple mixture and cook over medium heat, stirring occasionally, until the apples are very soft and syrupy, about 10 minutes (you can cover it for part of the time to encourage the cooking). Let cool completely.

2. Line two rimmed baking sheets with parchment paper or aluminum foil; place a cooling rack on one pan. In a small bowl, stir together the sugar and cinnamon for the topping. Place the walnuts on a cutting board. Combine the cake and about three-quarters of the cooked apple mixture. Test by compressing and tasting, and add more apple filling only if needed for flavor and moisture. Roll into golf ball""size cake balls. Refrigerate one-third of the cake balls until firm, about 45 minutes (these will be dipped in glaze). Meanwhile, roll half of the remaining balls in the walnuts and the other half in the cinnamon sugar right away and place on the lined pan.

3. Dip the chilled cake balls in the Confectioners"™ Sugar Glaze, encouraging any excess glaze to drip back into the container. Place, evenly spaced, on the cooling rack. Allow the glazed cake balls to dry at room temperature until the glaze is set. Place each cake ball in a paper cup, if desired. Glazed balls can be placed in a single layer in a container, loosely covered with aluminum foil, and stored at room temperature overnight. Remaining balls with dry toppings can be placed in a single layer in an airtight container and stored at room temperature for up to 2 days.
Recipes by Course
Recipes by Main Ingredient
Recipes by Cuisine
Recipes by Preparation
Recipes by Occasion
Recipes by Dietary