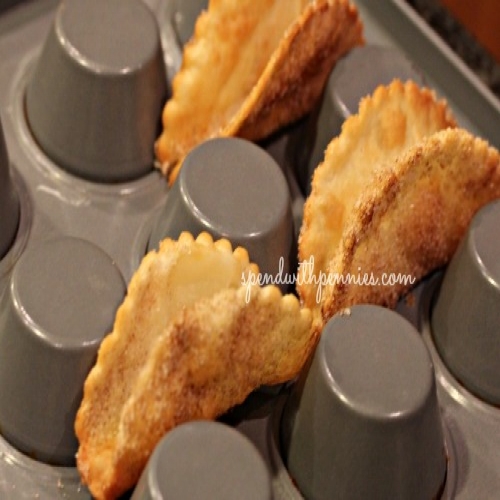 Prep Time:
Cooking Time:
Serves:
Category: Healthy Recipes, Apples
Ingredients List
Taco Shells
6 large Flour Tortillas
Oil for frying
2/3 cup sugar
2 teaspoons cinnamon
Filling
1 21 oz can apple pie filling, chopped coarsely
OR
3 large apples
1 1/2 tablespoons butter
3 tablespoons brown sugar
1 teaspoon lemon juice
1 teaspoon cinnamon
1 teaspoon cornstarch
1/2 cup water (divided)
Other
Frozen Whipped Topping
Caramel sauce (store bought or homemade)
Directions
Taco Shells

1. Using a 3.5" circle cutter, cut out circles from your tortillas. You should get about 5 from each tortilla. (You can use any size cutter but this was the perfect size for a 2-3 bite taco).

2. Combine sugar & cinnamon in a bowl and set aside. Heat about 1 1/2" of oil in a pan on the stove over medium heat. Use a little scrap of tortilla to put in the oil and make sure it's good & bubbly.

3. Using tongs, place one circle in the oil for about 5 seconds. Flip it over and fold it in half holding it folded for about 5 seconds or until browned. Flip over and fry the other side until crispy. Immediately remove from the oil giving it a little shake and place into the cinnamon sugar.

4. Set on a pan to cool. You can leave these at room temperature for up to 3 days.

Filling

5. Peel and dice apples. Toss with lemon juice.

6. Over medium heat stir together butter, chopped apples, cinnamon and brown sugar. Add about 1/4 cup water and let cook on medium heat for about 4 minutes. Stir 1 teaspoon cornstarch into remaining water and add to pan. Continue cooking until most of the liquid is gone and apples are soft.




Recipes by Course
Recipes by Main Ingredient
Recipes by Cuisine
Recipes by Preparation
Recipes by Occasion
Recipes by Dietary