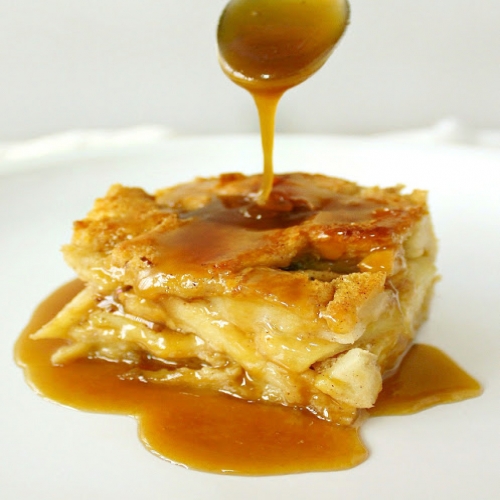 Prep Time:
Cooking Time:
Serves:
APPLE RUM BREAD PUDDING WITH BUTTERSCOTCH RUM SAUCE
Category: Eggs, Breads
Ingredients List
1 loaf french bread, cut into 1 inch cubes, about 5 1/3 cups
1 cup whole milk
1/3 cup brown sugar
1/3 cup granulated sugar
1 cup heavy cream
2 eggs
2 egg yolks
1 tsp vanilla extract
1 tsp + 1/2 tsp cinnamon
2 tbsp rum
2 large apples, peeled and cored, cut into thin slices or cubes (whichever you prefer)
Directions
To make the bread pudding:

1. Lightly toast the bread cubes in the oven or in a small oven toaster until very light brown with a slight crunch, 5 to 10 minutes should do. Remove and set aside.

2. Heat the milk with the brown sugar and granulated sugar in a pan on low heat until completely dissolved. Remove from the heat and let cool for 5 minutes. Transfer this mixture to a bowl and mix in the heavy cream. Whisk in the eggs gradually until well combined. Add the vanilla, 1 tsp cinnamon and rum and mix well. Set aside.

3. In another bowl, sprinkle the 1/2 tsp cinnamon over the apples and mix until well coated.

4. Butter an 8x8 inch square baking dish. Arrange half the amount of bread cubes in a single, even layer. Spread the apples evenly over the bread cubes. Top with the remaining half of bread cubes. Carefully pour the custard mixture evenly over the whole thing. Set aside for 30 minutes at room temperature or overnight in the fridge, covered. Gently press down the bread cubes with the back of a wooden spoon to properly soak all the bread cubes every 10 minutes.

5. Bake at 350 degrees for 45-50 minutes until the pudding is set. Best served warm drizzled with the butterscotch rum sauce.

........................NOTES................

Mine puffed up quite a bit while baking in the oven and sank a little once cooled.
Bread puddings are meant to be eaten warm, swimming in thick, rich, caramel sauce spiked with rum. It IS the ONLY WAY to eat bread pudding!
Just drizzle the sauce on a slice and pop them in the microwave for 30 seconds or so on high. The pudding becomes more moist, softer and SO delicious! This one is a REAL KEEPER.

Now for the BEST PART!

BUTTERSCOTCH RUM SAUCE

2/3 cup heavy cream
5 tbsp + 1 tsp butter
1 cup brown sugar, tightly packed
2 tbsp honey
2 tsp vanilla extract
2 tbsp rum

Put everything together, except for the rum, in a saucepan on low heat and boil gently for 10 minutes, stirring once in a while until nice and thick. Remove from the heat and stir in the rum. Drizzle warm pudding slices with the sauce before serving.
Recipes by Course
Recipes by Main Ingredient
Recipes by Cuisine
Recipes by Preparation
Recipes by Occasion
Recipes by Dietary