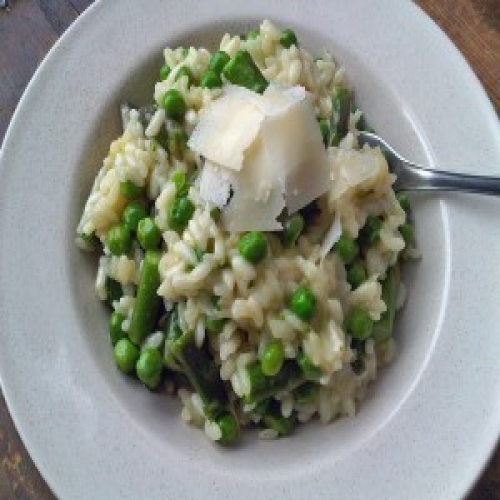 Prep Time:
Cooking Time:
Serves:

4 Servings
Asparagus and Green Pea Risotto
Category: Healthy Recipes, Vegetarian, Asparagus
Ingredients List
1 1/3 cups of arborio rice
3 cups vegetable or chicken stock
2 shallots, finely chopped
1-2 cloves garlic, finely chopped
1/2 cup white wine (or more stock)
1tbs butter
1tbs oil
500g fresh asparagus, cut into 1 inch lengths
2 cups frozen peas
zest of one lemon
100g grated parmesan cheese
Extra parmesan curls for garnish
Salt* and freshly ground black pepper
Directions
1. Melt butter and oil together in a heavy saucepan over a low heat, at the same time, bring the stock to a simmer in another small saucepan.
2. Fry the shallots and garlic until soft, then add the rice and stir for one minute.
3. Add the wine and continue stirring until all liquid is absorbed. Add half a cup of stock and again, stir until absorbed.
4. Keep adding stock half a cup at a time until you have only about a cup left, add the lemon zest, asparagus, peas and remaining stock to the saucepan, cover and leave for ten minutes. During this time, the last of the stock will be absorbed and the vegetables will cook to just crisp.
5. Stir in the grated parmesan, add salt and freshly ground black pepper to taste, and serve with parmesan curls to garnish.

* Note: I generally use packaged stock which is often high in salt, so I don"™t add any extra. Taste first and adjust as needed.
Apart from the lemon zest, asparagus and peas, the above is a standard risotto base which works well with many combinations of ingredients. Here"™s my other favourite variation"¦

Variation: Chicken and Mushroom Risotto
As above, but omit the lemon zest, asparagus and peas
Add:
2 chicken breast fillets, sliced
200g mushrooms, sliced
1 tablespoon fresh thyme

Add the chicken and thyme with the last of the stock as above.

Saute the mushrooms separately in a pan with a little butter "" they will turn the risotto brown otherwise! Stir into the risotto with the parmesan and serve.
Recipes by Course
Recipes by Main Ingredient
Recipes by Cuisine
Recipes by Preparation
Recipes by Occasion
Recipes by Dietary