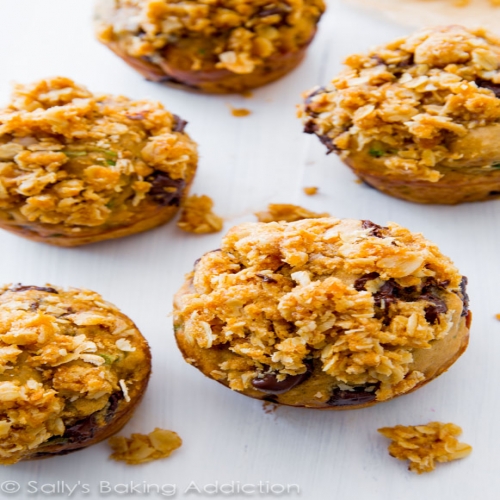 Prep Time:

20 minutes

Cooking Time:
Serves:

1 loaf or 10 muffins (can be easily doubled)
Award-Winning Zucchini Bread and Muffins
Category: Breakfast, Vegetables, Breads
Ingredients List
Brown Sugar Oat Streusel
2/3 cups (60g) old-fashioned or quick oats
1/2 cup (100g) light or dark brown sugar
2 Tablespoons (16g) all-purpose flour
1/2 teaspoon ground cinnamon
1/4 cup (60g) unsalted butter, cold
1 Tablespoon (10g) semi-sweet chocolate chips (optional)
Zucchini Bread & Muffins
1 large egg, beaten
1/2 cup (100g) light or dark brown sugar
1/2 cup (100g) granulated sugar
1/2 cup (120ml) vegetable oil*
1 cup grated zucchini (about 1 large)
2 teaspoons vanilla extract
1 and 1/2 cups (190g) all-purpose flour (careful not to overmeasure)
1/2 teaspoon baking powder
1/2 teaspoon baking soda
1/2 teaspoon salt
2 teaspoons ground cinnamon
1/4 teaspoon ground nutmeg
3/4 cup (135g) semi-sweet chocolate chips, optional (or use pecans or walnuts)
Directions
1. Preheat oven to 350F degrees. Spray a 9x5 (or 8x4) loaf pan with nonstick spray. If making muffins, preheat oven to 425F degrees and spray a 12-count pan with nonstick spray. Set aside.

2. Make the streusel first by combining the oats, brown sugar, cinnamon, and flour together in a medium bowl. Cut in the cold butter with two knives or a pasty cutter (preferred) - or you may use your hands. Mix until the streusel resembles coarse crumbs. Stir in the chocolate chips with a spoon. Set aside.

3. In a medium bowl, whisk together the beaten egg, brown sugar, granulated sugar, oil, zucchini, and vanilla until evenly combined. In a large bowl, toss the flour, baking powder, baking soda, salt, cinnamon, nutmeg, and chocolate chips together. Pour the wet ingredients into the dry ingredients and mix with a large wooden spoon or rubber spatula until combined. Avoid overmixing.

4. Spread batter into the prepared loaf pan. Bake the bread for 20 minutes at 350F degrees. Remove from the oven and top with the streusel - press it down into the top. The reason you are adding it after 20 minutes is to prevent it from sinking to the bottom of the bread as it bakes. Return to the oven and bake for an additional 25-30 minutes or until a toothpick inserted in the center comes out clean. I covered the bread loosely with aluminum foil after 35 total minutes to avoid the top from getting too brown. Allow bread to cool in the pan set on a wire rack for at least 1 hour before removing from the pan and serving.

5. If making muffins, fill 9-10 muffin cups all the way to the top. Press the streusel into the tops of each muffin. Bake for 5 minutes at 425F degrees and, keeping the muffins in the oven, lower the oven temperature to 350F degrees and continue to bake for an additional 13-14 minutes or until a toothpick inserted in the middle comes out clean. Allow to cool in the pan for 5 minutes before serving.

6. Bread and muffins stay covered tightly at room temperature or refrigerator for up to 5 days. Bread and muffins freeze well for up to 3 months. Recipes may easily be doubled, tripled, etc and baked in batches.

Recipes by Course
Recipes by Main Ingredient
Recipes by Cuisine
Recipes by Preparation
Recipes by Occasion
Recipes by Dietary