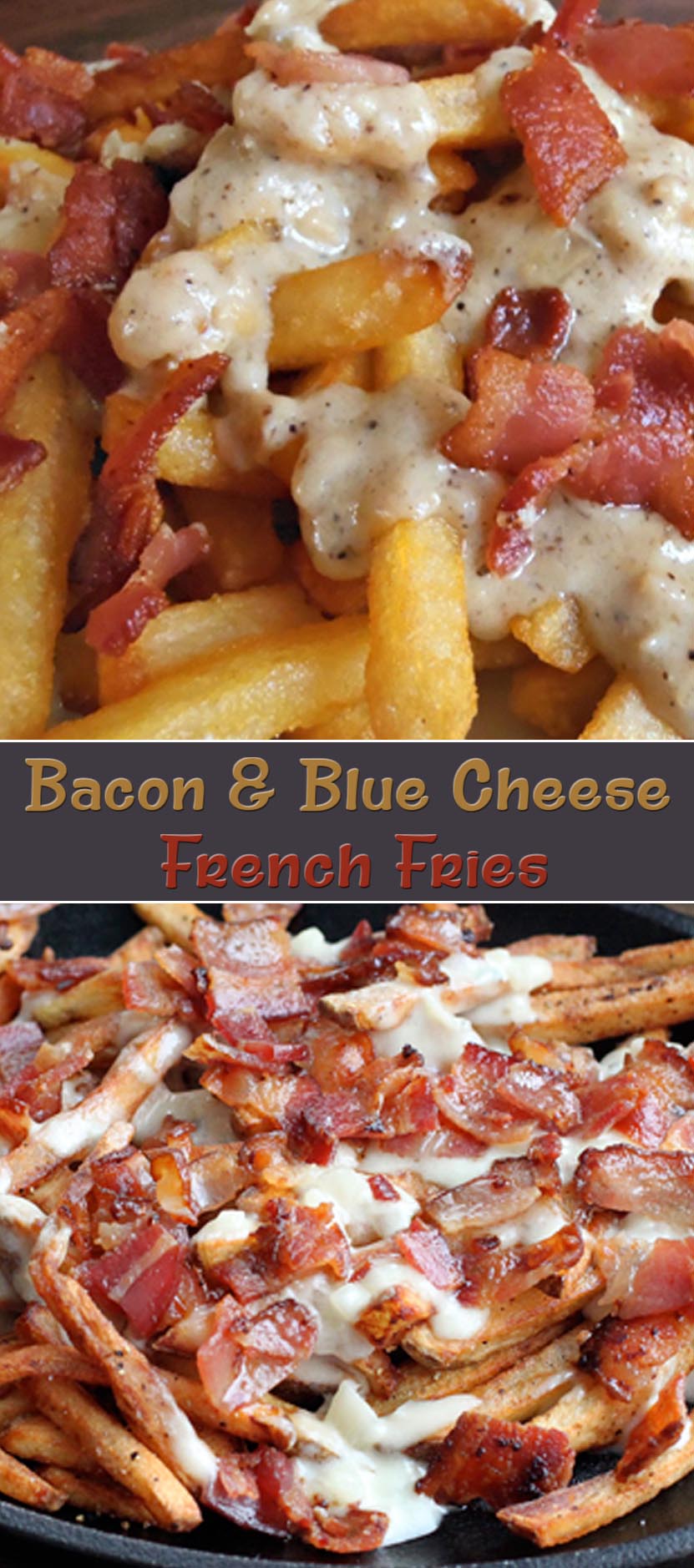 Prep Time:

15 minutes

Cooking Time:

17 minutes

Serves:

4
Bacon and Blue Cheese French Fries
Recipe Submitted by

maryjosh

on

11/25/2016
Ingredients List
2 whole potatoes, cleaned, and peeled
3 slices of Nueskes bacon (or your favorite), cooked, and chopped
1/4 cup shallot, finely diced
2 cloves garlic, diced
1 tbsp unsalted butter
1 cup of blue cheese, crumbled
1/2 cup of milk
1 tsp cracked black pepper
3 cups canola oil
Salt and pepper to taste
Directions
Start by cutting your potatoes in half, lengthwise. Then cut them into about 1/2 inch slices, lengthwise. Place them on their side, and slice in 1/2 slices again until you have a french fry cut. See the picture below, or do a quick Google search to see how it's done.

Place your cut french fries into a large bowl of cold water as this will help remove some of the starch as well as prevent the potatoes from turning brown.

To medium size pot, add the canola oil and bring it up to 325 degrees. While the oil preheat, drain the potatoes and lay them out on a towel. Gently pat them to dry as you do not want wet potatoes to go into the hot oil.

When the oil has reached temperature, add a small handful of potatoes to the oil, and cook them for about 4 minutes. After 4 minutes, remove them with your kitchen spider or slotted spoon and set them on a paper lined baking sheet to drain any excess oil.

Repeat with remaining potatoes, making sure you bring the oil temperature up to 325 degrees after every batch.

During this time, let's go ahead and make the blue cheese sauce.

To make the sauce, add the butter to a skillet and let it melt over medium heat. Toss in the shallots and garlic, and give that a good mix. Let this sweat down for about 4 minutes.

Add in the blue cheese, milk, and black pepper. Raise the heat a bit and let this begin to melt down and become nice and bubbly. Stir along the way. Once the sauce thickens, reduce the heat to low, or remove from the heat and set aside.

Once all of your potatoes have cooked, raise the temperature of your oil to 375 degrees.

Again, in small batches, add the precooked potatoes back into the oil, and cooked until golden brown, roughly 4 minutes. Again, remove with your spider, however toss in a paper lined bowl. Season with salt and pepper. Repeat with remaining potatoes.

After the french fries are complete, it is then time to assemble.

Preheat your oven broiler to 450 degrees.

Add a bundle of french fries to a baking dish. I used my good 'ol cast iron fajita skillet, spoon a bunch of the blue cheese sauce all over the fries, and top with the chopped bacon.

Place under the broiler until the cheese is nice and bubbly, roughly 4-5 minutes.

Your end result is an awesome flavor combination of smoky bacon and blue cheese. Pair that with these amazing homemade french fries, and well in baseball terms, you just hit a homerun. Perfect for any side dish, and heck pair these up with a classic burger, and you've just impressed not only yourself, but those around you. Hope you enjoy.
Recipes by Course
Recipes by Main Ingredient
Recipes by Cuisine
Recipes by Preparation
Recipes by Occasion
Recipes by Dietary