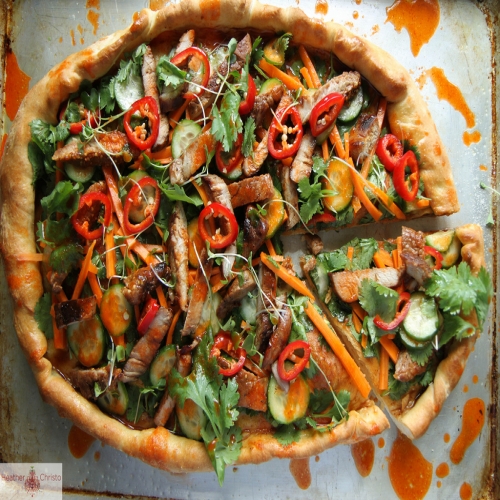 Prep Time:

30 minutes

Cooking Time:

20 minutes

Serves:

12 servings
Bahn Mi Pizza
Recipe Submitted by

Chicoo

on

08/31/2014
Category: Pizza
Ingredients List
1 pizza crust
2 tablespoons olive oil
½ pound marinated pork tenderloin
1 cup fresh cilantro leaves
2 red Fresno peppers, thinly sliced
1 carrot shredded pickled
1 cucumber, thinly sliced
Bahn Mi Sauce
Sriracha Sesame Drizzle
Marinated Grilled Pork (from this recipe)
3 tablespoons fish sauce
2 tablespoons honey
1 tablespoon vegetable oil
½ teaspoon sesame oil
1 tablespoon packed brown sugar
2 tablespoons reduced sodium soy sauce
2 garlic cloves, minced
½ teaspoon grated fresh ginger
½ teaspoon freshly ground black pepper
1 pound pork tenderloin, sliced into ½ inch thick medallions
2 tablespoons canola for cooking
Bahn Mi Sauce:
1 teaspoon rice vinegar
1 teaspoon honey
1 teaspoon sesame oil
1 teaspoon soy
1 teaspoon hoisin
Sriracha Sesame Drizzle:
2 tablespoons Sriracha
1 tablespoon rice wine vinegar
1 teaspoon sesame oil
Fast Pickled Carrots
-2 large Carrots, peeled and cut into matchstick sized pieces
-1 cup rice wine vinegar
"¨-¼ cup sugar
-2 tsp kosher salt
"¨-¼ tsp crushed red pepper flakes
Directions
For the Marinated Grilled Pork:

1. Whisk together the fish sauce, honey, vegetable and sesame oil, brown sugar, soy sauce, garlic, ginger and black pepper in a small bowl until well combined.

2. Place a few pork tenderloin medallions in between sheets of parchment or plastic wrap and gently pound them ¼" flat with a meat pounder or rolling pin. Set aside and repeat with the remaining medallions. Place the medallions in a Ziploc bag and pour in the marinade. Seal the bag and shake it around to fully coat the pork. Marinate the pork in the refrigerator for 30 minutes.

3. In a medium sized pan, add 1 tablespoon of canola oil and cook half of the pork over medium-high heat until cooked through, about 2 minutes on each side . Repeat with the other half of the oil and the pork.

For the Fast Pickled Carrots:

4. Warm the rice wine vinegar, sugar, salt and red pepper flakes in a small saucepan. When you have brought it to a simmer, whisk well to make sure that the sugar and salt have disintegrated. Transfer it to a bowl and let it cool completely. Add the carrots and refrigerate until ready to serve.

For the Bahn Mi Sauce:

5. In a small bowl, combine the rice vinegar, honey, sesame oil, soy and hoisin sauce and whisk until smooth. Set Aside.

For the Sriracha Sesame Sauce:

6. In a small bowl, combine the sriracha, sesame oil and rice wine vinegar until smooth. Set aside.

7. Preheat the oven to 425 degrees.

8. Roll the dough out into a large circle and fold over the edges to create a crust. Rub the crust with the 2 tablespoons of olive oil. Bake the pizza in the oven at 425 degrees for 15 minutes until the crust is golden brown.

9. Remove the pizza from the oven and pour the Bahn Mi Sauce over the crust. Top with the pork, pickled carrots, cucumbers, fresh cilantro and red chili"™s.

10. Drizzle with the Sriracha Sesame Sauce.

Slice and Serve.

Recipes by Course
Recipes by Main Ingredient
Recipes by Cuisine
Recipes by Preparation
Recipes by Occasion
Recipes by Dietary