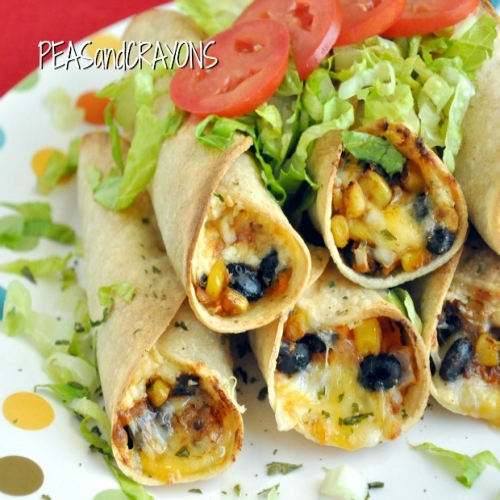 Prep Time:

25 minutes

Cooking Time:

16 minutes

Serves:

9
Baked Black Bean and Sweet Potato Flautas
Category: Onions, Black Beans, Potatoes
Ingredients List
9 corn tortillas
1 cup of black beans
1 cup mexi-corn [corn + colorful red/green peppers!]
1 small/medium sweet potato
¼ cup of diced white, yellow, or red onion
½ tsp chili powder
½ tsp garlic powder
½ tsp dried or fresh cilantro
½ tsp cumin
¼ tsp cayenne pepper or red pepper flakes [optional]
2oz full-fat or â…" fat cream cheese, room temperature [optional]
4-6 ounces of grated cheese [habanero cheddar, cheddar, pepper jack, etc...]
1-2 heaping tablespoons [or more!] of taco sauce, enchilada sauce, or salsa
salt and pepper to taste
all-natural olive oil spray or plain oil
parsley or cilantro + fresh veggies to garnish
salsa, guacamole, and sour cream for dipping
Directions
1. Pre-heat your oven to 425F.
2. Poke a few holes in your sweet potato, wrap it in a slightly damp paper towel, and microwave on high for about 6-8 minutes. The paper towel trick keeps the potato moist
3. While you wait, combine corn, diced or minced peppers, and diced or minced onion with your black beans, garlic powder, chili powder, cumin, cilantro, cayenne, and taco sauce/salsa. If you prefer very tender veggies, feel free to saute the vegetables first in a little butter or oil to tenderize. Your cayenne and red pepper flakes will control the spice-factor; adjust those to taste. I alternate between using my favorite flavorful red enchilada sauce, spicy taco sauce, and a natural, zesty salsa like Mrs. Renfros Green Salsa, all have produced delicious results!
4. Once your sweet potato is cooked, fluff the inside with a fork and add the flesh [minus the skin] to the rest of your veggies and mix thoroughly.
5. Add salt, pepper, and any additional seasoning to taste. I usually add a little extra sprinkle chili powder, cumin, and garlic!
6. Next, working in small batches of maybe 3-4 tortillas, wrap corn tortillas in a damp paper towel and microwave on high for 30 seconds. Follow it up with an additional 30 seconds, if needed. The goal here is to steam the tortillas so they roll into perfect flautas without breaking or cracking =) This trick works like a charm!
7. Immediately spray or rub one side each tortilla with oil and add "line" of veggie filling to the center of the "dry side" of each tortilla, about 1-inch thick.
8. Top it off with a layer of cheese [as much or as little as you want! if you're using cream cheese as well you can mix it into the shredded cheese before topping] and roll the tortilla.
9. Place on a wire baking/cooling rack and seal with a toothpick, if needed.
10. Repeat these steps until you have a rack full of flautas.
Give them one more teeny spritz of olive oil to get them extra crispy [no-frying! whoo!] and set the rack baking sheet lined with aluminum foil. The wire rack elevates the flautas and allows them to get nice and crispy on both sides. If you don't own a wire rack, simply place the flautas on aluminum foil after spraying and turn over halfway through cooking so both sides will get a chance to crisp up. Uber easy!
11. Bake on the middle rack, at 425F, for 15 minutes.
12. At the end, set to broil on HIGH for just under a minute to crisp the tortillas into a perfectly golden, crunchy shell.
13. Pile high with any + all veggies you have on hand and serve with plain greek yogurt, salsa, and guacamole for dipping! You can even whip up a small bowl of jalapeno ranch for dunking too! If you have any fresh lime or cilantro both will make a tasty garnish!

Recipes by Course
Recipes by Main Ingredient
Recipes by Cuisine
Recipes by Preparation
Recipes by Occasion
Recipes by Dietary