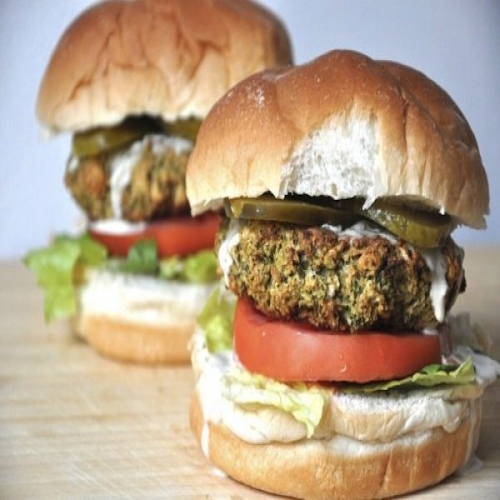 Prep Time:
Cooking Time:
Serves:
Category: Holiday, Healthy Recipes
Ingredients List
1/3 cup dry couscous
1 cup water
1 1/2 cups broccoli florets
2 teaspoons olive oil
1/2 cup chopped scallions
1/2 cup chopped yellow onion
2 teaspoons ground cumin
1 15 ounce can of chickpeas, rinsed and drained
1 tablespoon sesame tahini
1/2 cup panko breadcrumbs
Tahini Dressing
1/3 cup sesame tahini
1/3 cup water
1/4 cup plus 1 tablespoon fresh lemon juice
2 garlic cloves, chopped
3/4 teaspoon sea salt
Directions

1. Preheat your oven to 400 degrees Fahrenheit.
2. In a small pot, bring the water and couscous to a boil.
3. Remove from heat immediately and allow the couscous to sit in the pot for 10 minutes, soaking up the water.
4. While the couscous sits, steam the broccoli in a steamer for 5-7 minutes (or use a microwave or stove method, you just want the broccoli to be soft in the end)
5. In a skillet, heat the olive oil over medium heat and add in the onion and scallions, stirring occasionally for 3-5 minutes until the onion softens.
6. Remove the onions from the heat and stir in the cumin.
7. Gather your couscous, broccoli, onion mix, chickpeas and sesame tahini and combine together in a food processor.
8. Pour the mixture into a bowl and stir in the bread crumbs.
9. Form it into patties and place the patties on a cookie sheet lined with foil.
10. Bake for 50 minutes, turning the patties over halfway through. You"™ll know they are done when the tops begin to brown.
11. To make the tahini sauce, place all ingredients in a food processor and blend until combined, roughly 30 seconds.
12. Top your burgers with the sauce, throw some pickles, tomato and lettuce on there, and go to town!


Recipes by Course
Recipes by Main Ingredient
Recipes by Cuisine
Recipes by Preparation
Recipes by Occasion
Recipes by Dietary