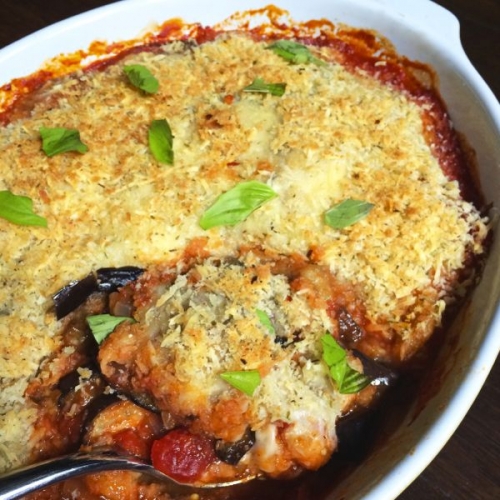 Prep Time:
Cooking Time:
Serves:
Baked Eggplant Parmesan with Crispy Panko Topping
Recipe Submitted by

Marsala

on

11/06/2014
Category: Main Dish, Vegetables
Ingredients List
2 large eggplants - sliced ½ inch thick
3 tablespoons olive oil - divided
1 teaspoon kosher salt - divided
black pepper
1 medium onion - diced
3 garlic cloves - grated
2 teaspoons dried oregano - divided
1 teaspoon garlic powder
½ teaspoon chili flakes - divided
32 ounce can whole peeled tomatoes
14 ounce can tomato sauce - low sodium
½ cup red wine
6 slices BelGioioso Sliced Mild Provolone
1 cup panko bread crumbs
3 ounces BelGioioso American Grana® parmesan - grated
Directions
1. Pre-heat oven to 475 degrees. Arrange eggplant slices in a single layer amongst two foil-lined baking sheets sprayed with cooking spray.

2. Brush the top of each eggplant round with 2 tablespoons of the olive oil and sprinkle with kosher salt and black pepper. Bake eggplant until golden brown, 15-20 minutes. Remove eggplant from the oven and reduce heat to 350 degrees.

3. While eggplant is baking, heat remaining tablespoon of olive oil in a medium sauce pan over medium heat. Add diced onion to the pan along with a small pinch of kosher salt. Stirring frequently, cook onions until they become translucent, 4-5 minutes.

4. Grate garlic directly over pan and add ¼ teaspoon of the chili flakes. Stir in tomato sauce, whole peeled tomatoes and 1 teaspoon of the oregano. Use scissors or a potato masher to gently break down the whole peeled tomatoes. Add red wine then bring to a boil before reducing heat to low on simmer. Check for seasoning and add salt or pepper to taste; set aside.

5. To begin assembling the eggplant parm, ladle 1 cup of the tomato sauce and spread across the bottom of a 9 x 13 inch baking pan. Place one layer of eggplant on top of the sauce, overlapping each slice a little.

6. Pour another cup or so of the tomato sauce on top of the eggplant and continue until you've used all of the eggplant, ending with sauce on top.

7. Top the last layer of sauce with 6 slices BelGioioso Sliced Mild Provolone overlapping one another to cover the entire pan.

8. In a small bowl, mix together panko bread crumbs, BelGioioso American Grana® and the remaining spices: 1 teaspoon oregano, 1 teaspoon garlic powder, ¼ teaspoon chili flakes and ¼ teaspoon salt.

9. Sprinkle the panko/cheese mixture in an even layer on top of the provolone.

10. Bake at 350 degrees until dish is gently bubbling and the cheese/panko topping is golden brown: 35-40 minutes.

11. Let pan rest 5-10 minutes before slicing to allow ingredients to settle. Serve over pasta or with crusty bread.
Recipes by Course
Recipes by Main Ingredient
Recipes by Cuisine
Recipes by Preparation
Recipes by Occasion
Recipes by Dietary