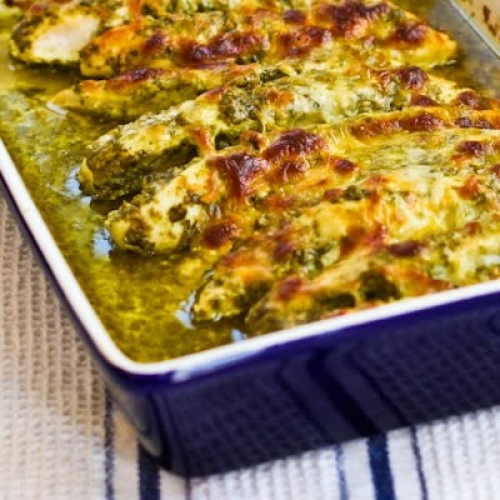 Prep Time:
Cooking Time:
Serves:
Baked Pesto Chicken (LowCarb, GlutenFree)
Category: Low Carbonade, Chicken, Main Dish
Ingredients List
4 boneless, skinless chickenn breasts
salt and fresh ground black pepper for seasoning chicken
1/2 cup basil pesto (I used my homemade Basil Pesto with Lemon, but you can use purchased pesto.)
2 oz. (1/2 cup) grated low-fat mozzarella cheese
Directions
Preheat oven to 375F/190C. Trim all visible fat and tendons from chicken pieces, then cut each chicken breast lengthwise into 2 or 3 pieces. (I cut the larger ones into 3 strips and the smaller ones into 2 strips.)

Spray a 9" x 12" (or 8.5" X 12.5") baking dish with non-stick spray, then spread 1/4 cup basil pesto over the bottom of the dish. Lay chicken strips over the pesto, then spread 1/4 cup more basil pesto over the chicken.

Cover the baking dish with aluminum foil (or use a baking dish with a tight-fitting lid) and bake the chicken for 25-30 minutes, just until chicken is barely firm and cooked through. (Don't cook too much at this point, or the chicken will be overcooked by the time the cheese is melted and browned.)

When chicken is barely cooked through, remove foil and sprinkle chicken with 1/2 cup grated mozzarella cheese. Put dish back into the oven without foil and cook 5 minutes more, just until cheese is melted. (If your broiler is separate from the oven, start preheating it when you take the chicken out.) After I melted the cheese for 5 minutes I switched my oven to broil and broiled for 5 minutes more, just long enough to get the cheese lightly browned.

Serve hot. There will be some flavorful juice in the bottom of the dish when this is done, so you may want to serve with rice, couscous, or quinoa to soak up the juice, but if you're eating this for phase one, just spoon the juice over the chicken.

Recipes by Course
Recipes by Main Ingredient
Recipes by Cuisine
Recipes by Preparation
Recipes by Occasion
Recipes by Dietary