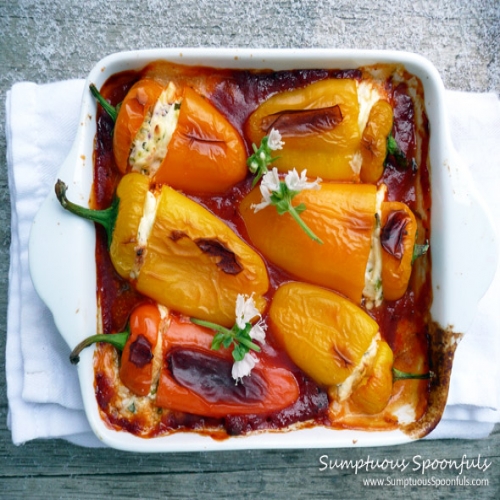 Prep Time:

15 Minutes

Cooking Time:

15 Minutes

Serves:
Basil Goat Cheese Stuffed Sweet Peppers
Category: Peppers, Meat, Main Dish
Ingredients List
~~~~~~~ For the filling ~~~~~~~
1 6-oz. package goat cheese
4 oz. light cream cheese
2 - 3 Tablespoons fresh basil leaves, chopped fine
1 Tablespoon finely chopped garlic scapes OR 1 clove garlic, peeled and chopped fine
~~~~~~~ For the rest ~~~~~~~
1/2 lb. or so of small sweet peppers
Your favorite marinara sauce
Ciabatta rolls, halved and toasted (or other little toasts)
Directions
1. Mix the goat cheese, cream cheese, basil and garlic scapes in a bowl until well mixed.

2. Set the cheese mixture in a thin line on the cheese wrapper or a piece of waxed paper and shape it into a thin log about the width of the bottom of the peppers. Don't worry if your log isn't log enough to fill all the peppers -- you can make more cheese logs as you go.

3. Wash a few peppers, pat them dry, cut off the tops (save the top next to each pepper!), then with a small thin knife, cut out any seeds or flesh in the middle of the peppers.

4. Insert a log of cheese into each pepper, and add a little more on top and smush the cheese mixture down into the pepper to fill the pepper fully. Place the pepper top back on. Repeat with the rest of the peppers. If you run out of peppers, relax knowing you'll have some yummy cheese to spread on your crackers. If you run out of cheese, save those peppers for another use!

5. Find a rimmed baking pan or oven-safe dish that will fit your peppers. Spread a layer of marinara sauce over the bottom, then arrange the peppers on the sauce.

6. Bake at 400 degrees for about 15 minutes or until the peppers are browned on top.

7. To serve: Spread a bit of hot marinara on a toasted ciabatta roll (or toast), and top with one or two of the stuffed peppers. Garnish with fresh basil leaves or basil flowers, if you like.

8. Enjoy while they are hot.
Recipes by Course
Recipes by Main Ingredient
Recipes by Cuisine
Recipes by Preparation
Recipes by Occasion
Recipes by Dietary