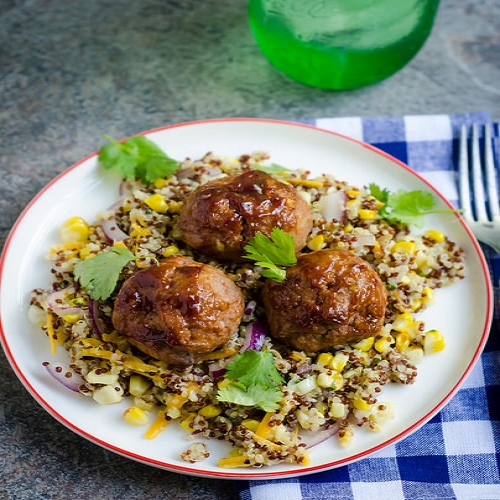 Prep Time:
Cooking Time:
Serves:
BBQ Turkey Meatballs over Cheddar-Corn Quinoa
Category: Healthy Recipes, Turkish
Ingredients List
BBQ Turkey Meatballs
1 lb ground turkey
1/4 cup panko bread crumbs
1 scallion, minced
1 Tbs minced fresh cilantro
1/2 tsp paprika
1/4 tsp garlic powder
1 tsp dry mustard
3/4 tsp kosher salt
pinch cayenne
2 tsp brown sugar
5 Tbs bbq sauce, divided
Cheddar-Corn Quinoa
1 cup quinoa, rinsed and drained
1 1/2 cups chicken or vegetable broth
kosher salt and freshly ground black pepper
2-3 ears of corn, grilled, roasted, or boiled, kernels cut from cobs
1/2 medium red onion, sliced into thin rings and rinsed under cold water
3 Tbs chopped fresh cilantro
1 scallion, minced
3/4 cup freshly shredded sharp cheddar cheese
3 Tbs olive oil
1/4 tsp crushed red pepper flakes
2 cloves garlic, minced
1 Tbs apple cider vinegar
Directions
Preheat the oven to 400 degrees. Line a baking sheet with foil or parchment paper, and spray lightly with cooking spray.

In a large bowl, combine the chicken, panko, scallion, cilantro, paprika, garlic, mustard, salt, cayenne, brown sugar, and 2 tablespoons of the bbq sauce. Lightly but thoroughly mix with your hands to incorporate all the ingredients. Using an ice cream scoop or 1/4 cup measuring cup, form the mixture into balls, and arrange in a single layer on the prepared baking sheet.

Add the remaining 3 tablespoons of bbq sauce to a small bowl.

Bake the meatballs 11 to 12 minutes, then brush with the reserved bbq sauce. Return to the oven and bake an additional 3 to 4 minutes, or until they are cooked through (160 in the center).

Bring the quinoa, broth, and a big pinch of salt to a boil in medium saucepan. Cover, reduce heat, and simmer about 15 minutes, or until the quinoa is cooked through.

Remove the quinoa from heat, and add to a medium mixing bowl. Stir in the corn, onion, cilantro, scallion, and cheese.

In small bowl, whisk together the oil, pepper flakes, garlic, and vinegar. Pour over the quinoa and gently mix to combine. Taste and season with additional salt and pepper as needed.

Serve the meatballs over the quinoa.
Recipes by Course
Recipes by Main Ingredient
Recipes by Cuisine
Recipes by Preparation
Recipes by Occasion
Recipes by Dietary