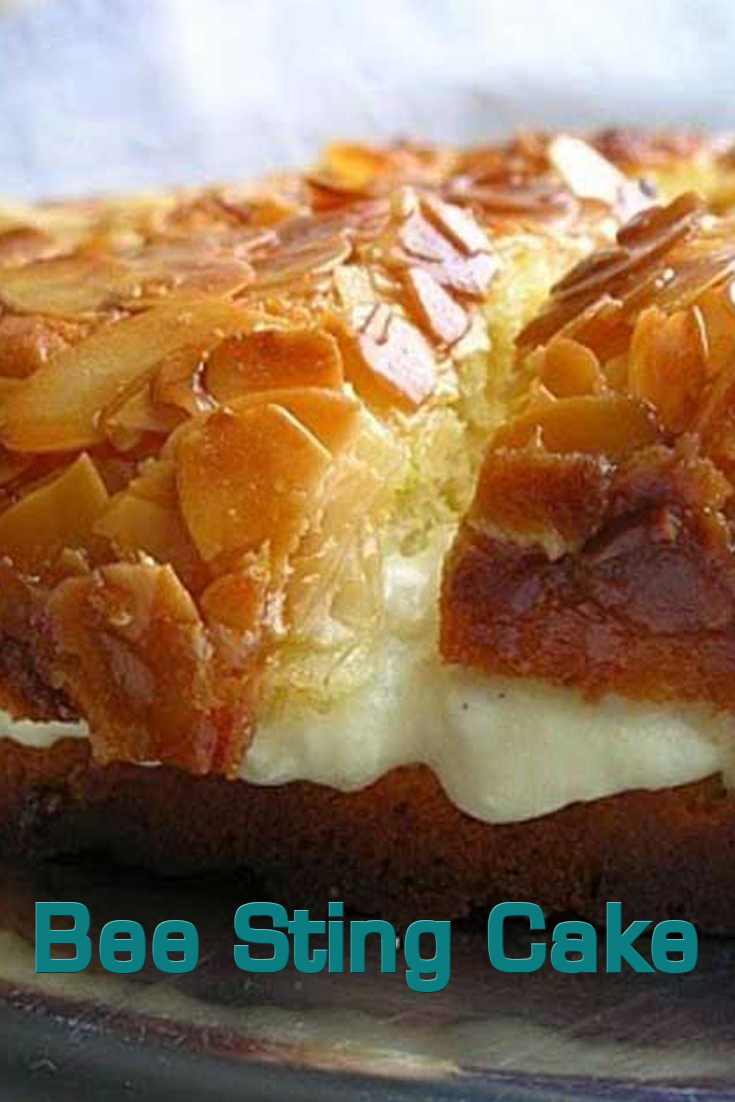 Prep Time:

240 mins

Cooking Time:

120 mins

Serves:

12
Bee Sting Cake r2
Recipe Submitted by

maryjosh

on

10/20/2016
Ingredients List
Pastry Cream
1 cups ¼ milk whole or 2%
teaspoon ½ vanilla bean split lengthwise or 1 pure vanilla extract or vanilla bean paste
3 large egg yolks
1/4 cup ( granulated white sugar
2 tablespoons all-purpose flour
2 tablespoons cornstarch corn flour
1/2 tablespoon liqueur (Grand Marnier Brandy, Kirsch or Amaretto) (optional)
Brioche dough:
¼ cup whole milk
1 tablespoon honey
1 ½ teaspoons active dry yeast
2 large eggs lightly beaten
¾ cup all-purpose flour
2 tablespoons granulated sugar
½ teaspoon salt
1 cup plus 2 tablespoons bread flour divided
½ cup unsalted butter at room temperature
Honey-Almond Topping:
¼ cup unsalted butter (4 tablespoons)
¼ cup sugar
¼ cup honey
pinch of salt
¾ cup sliced almonds
Directions
Pastry Cream:
In a medium-sized heatproof bowl, mix the sugar and egg yolks together. (Don't let the mixture sit too long or you will get pieces of egg forming.) Sift the flour and cornstarch (corn flour) together and then add to the egg mixture, mixing until you get a smooth paste.
Meanwhile, in a saucepan bring the milk and vanilla bean just to boiling (just until milk starts to foam up.)
Remove from heat and add slowly to egg mixture, whisking constantly to prevent curdling. (If you get a few pieces of egg (curdling) in the mixture, pour through a strainer.)
Remove vanilla bean, scrape out seeds, and add the seeds to the egg mixture. (The vanilla bean can be washed and dried and placed in your sugar bowl to give the sugar a vanilla flavor.)
Then pour the egg mixture into a medium saucepan and cook over medium heat until boiling, whisking constantly. When it boils, whisk mixture constantly for another 30 – 60 seconds until it becomes thick.
Remove from heat and immediately whisk in the liqueur (if using). (Stir in vanilla extract if using instead of a vanilla bean.) Pour into a clean bowl and immediately cover the surface with plastic wrap to prevent a crust from forming. Cool to room temperature. If not using right away refrigerate until needed, up to 3 days. Whisk or stir before using to get rid of any lumps that may have formed.
Makes about 1 cup
Brioche dough:
In a small saucepan (or a small cup if you want to use the microwave), combine milk and 1 tablespoon honey and heat until it registers between 110 degrees F to 115 degrees F on an instant-read thermometer. Pour the mixture into bowl of an electric mixer and sprinkle over yeast. Let mixture stand for 10 minutes, until yeast is creamy/foamy.
Transfer bowl to mixer stand and attach paddle (or hook) attachment. While mixing at low speed, gradually add eggs, all-purpose flour, sugar, and salt, and mix until blended.
Gradually add all but 2 tablespoons of bread flour. Mix at medium speed until dough is smooth and elastic, about 5 minutes. Dough should not stick to sides of bowl; if it does, add some of all of remaining 2 tablespoons of bread flour until dough cleans sides of bowl.
Add butter 1 tablespoon at a time, mixing at medium speed until it is blended into dough. (Dough will be very soft.) Transfer dough to a work surface and knead by hand a few times to ensure that butter is completely incorporated into dough. Shape dough into a ball and transfer it to a medium buttered bowl. Cover bowl with plastic wrap and set aside in a warm place for 1 1/2 to 2 hours, until it has doubled in volume.
Punch dough down to deflate it, and knead it a few times. Return dough to bowl, cover, and refrigerate for at least 4 hours (or up to 12 hours). Dough should have doubled in volume. If it hasn't, let it stand at room temperature until it has. (NOTE: I made the dough the night before.)
Butter bottom and sides of a 9" spring-form pan. Shape dough into a ball and arrange it, smooth side up, in center of pan. Flatten ball gently with your palm until it covers bottom of pan. Cover pan and let dough rise until it is puffed, about 1 hour.
Honey-Almond Topping:
Combine the butter, sugar, honey, and salt, and bring to a gentle boil on the stovetop.
Remove from the heat, and stir in the almonds. Evenly pour over the dough and place the pan on a parchment (or foil) covered baking sheet.
Position a rack in center of oven and preheat oven to 350 degrees F about 22-25 minutes, until golden brown and bubbly.
Place on a cooling rack, and allow to cool four 10 minutes. Remove from the Springform Pan and allow to cool completely.
Assembly:
Using a serrated knife, cut the cake in half. I place the cake on a rotating cake stand, and being by rotating the cake and creating a cut line midway through the cake. Continue rotating, allowing the knife to cut deeper until the cake is completely sliced in half.
Spread the pastry cream, leaving a narrow edge. Gently replace the top layer of the cake. Serve with coffee or tea.
Recipes by Course
Recipes by Main Ingredient
Recipes by Cuisine
Recipes by Preparation
Recipes by Occasion
Recipes by Dietary