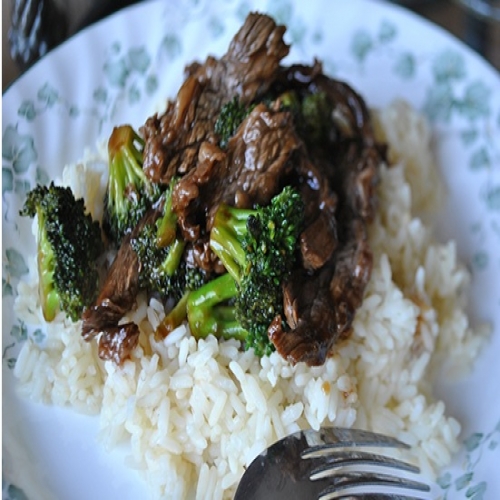 Prep Time:
Cooking Time:
Serves:
Beef and Broccoli in Michigan!!
Recipe Submitted by

Chicoo

on

08/26/2014
Category: Rice, Main Dish, Healthy Recipes, Beef
Ingredients List
1+1/2 lb. skirt steak
1/2 cup soy sauce
2 Tbsp. brown sugar
1 tsp. ground ginger
1+1/2 Tbsp. apple cider vinegar
2 Tbsp. corn starch
1 cup broccoli "" chopped
Rice
Directions
To start, slice your beef into strips. I wanted to elaborate on my cutting via the grain from my Steak Quesadilla post. In this first picture, my knife is going with the grain of the meat.

For this recipe, you"™ll want to cut against the grain, but at an angle.

The way you cut your meat determines how easy it is to chew once it"™s been cooked. Cutting against the grain means your teeth will usually bite WITH the grain, making it easier to take a bite without doing an awkward spaghetti-suck with a huge hunk of beef (you"™re welcome for that mental image).

Once your meat has been sliced, combine the soy sauce, brown sugar, ginger, vinegar and cornstarch in a bowl and mix together.

Add your meat to the sauce.

Let it marinate while you cook your broccoli.

To cook your broccoli, you"™ll want to "˜blanch"™ it, which keeps it nice and green. This means you"™ll cook it in hot water quickly then cool it in ice water. So, start with a 2-quart pot with enough water to fit all of your desired broccoli. Get the pan going on high heat until the water boils. Add your chopped broccoli and cook for 30 seconds.

Immediately drain your broccoli from the boiling water and place in a bowl of ice water. Cooling it off immediately makes sure the broccoli stays that bright green color. Soak in the ice water for 30 seconds and remove. Set the broccoli aside.

Heat a skillet on high heat (think, 8 out of 10 on the dial) and once the pan is heated, place about half of your beef in the skillet. Cook for about 2 minutes on each side.

Peek to make sure the meat is nice and brown before flipping it. Once that half is cooked through, remove it and do the same with the second half.

After the meat has browned, you"™ll add all the meat and the broccoli to the skillet and pour in the remaining sauce from your meat.

Let the sauce cook with the beef and broccoli. If you"™re uncomfortable using the sauce that your meat marinated in, feel free to whip up another half batch and use that instead! However, since you"™re cooking the sauce before eating, it really is fine to use it.

Pour this delicious, sauce beef mixture on top of a pile of rice and dig in!


Recipes by Course
Recipes by Main Ingredient
Recipes by Cuisine
Recipes by Preparation
Recipes by Occasion
Recipes by Dietary