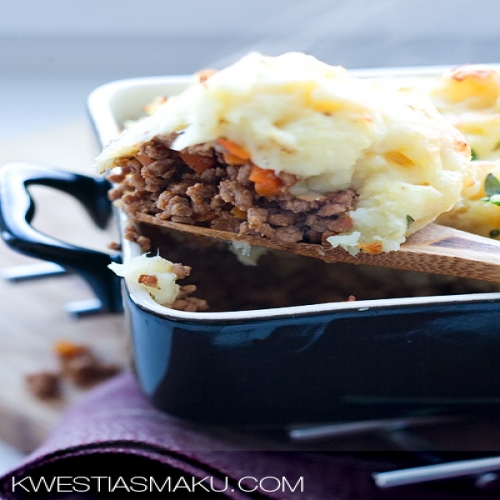 Prep Time:
Cooking Time:
Serves:

4-8 Servings
Beef and Potato Casserole-II
Category: Main Dish, Potatoes, Beef
Ingredients List
1 pound ground beef
2 tablespoons olive oil
1 medium onion, chopped
1 large carrot, diced
2 tablespoons tomato puree or 1 tablespoon ketchup
1 ½ cups boiling beef broth
2 tablespoons Worcestershire sauce
1 tablespoon leaves of fresh thyme
salt, to taste
pepper, to taste
!Potato Layer
3 medium (1 pound) potatoes
½ tablespoon parsley
1½ tablespoons cream cheese or sour cream - optional
3 - 3½ tablespoons milk
½ tablespoon butter
½ cup (2 oz) grated Cheddar cheese or your choice cheese
salt and pepper to taste
Directions
1. Meat: In a large skillet heat oil over medium heat and sauté onions. Add carrots and stir often, for 5 minutes. Add ground beef, increase the heat and stir fry for 5 minutes. Stir in tomato puree or ketchup and fry for 1 minute, then add the hot broth and Worcestershire sauce . Bring to a boil, cover, reduce heat and simmer for 20 minutes covered. Remove the cover and cook for 7 - 10 minutes until most of the liquid has evaporated. Add thyme, season with salt and black pepper. Put into a 2 quart ovenproof casserole dish.

2. Mashed: In a medium saucepan, boil water and a pinch of salt. Peel potatoes and diced into halves then place into boiling water. Add to pot, cover with cold water, add salt and bring to a boil. Cook covered for 15 minutes, until the vegetables are soft. Strain potatoes then bring to a bowl. Add milk, butter, cream cheese, salt and pepper. Mash potatoes until fluffy.

3. Preheat the oven to 350 degrees F. In the same 2 quart casserole dish, add the potatoes on top of the beef. Sprinkle cheese on top of potatoes. Bake for 25 minutes until the top is golden brown.
Recipes by Course
Recipes by Main Ingredient
Recipes by Cuisine
Recipes by Preparation
Recipes by Occasion
Recipes by Dietary