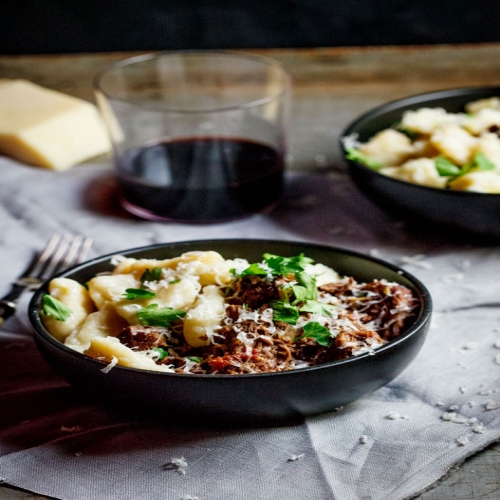 Prep Time:

30 Minutes

Cooking Time:

3 Hours

Serves:

4-6 Servings
Beef Ragu with Parmesan Gnocchi
Category: Healthy Recipes, Main Dish, Beef
Ingredients List
-------- For the ragu --------
1kg chuck roast
2 red onions, peeled and roughly chopped
1x 400g tin tomatoes
1 tablespoon tomato paste
2 teaspoons sugar
4 garlic cloves, peeled, left whole
2 sprigs fresh rosemary
5 sprigs fresh thyme
2 bay leaves
2 tbsp soy sauce
250ml red wine
500ml beef stock
salt & pepper to taste
-------- For the Parmesan gnocchi --------
1 kg baking/fluffy potatoes
75g Parmesan, finely grated
2 egg yolks
1-1.5 cups flour
salt to taste
Directions
1. To make the pork ragu, set the homecooker (or your oven) to 160°c.

2. Place the beef, onions, tinned tomatoes, tomato paste, garlic, soy sauce, spices, sugar and salt & pepper into a roasting dish with a lid. Add the wine & stock and cover.

3. Place in the oven (if you're using the oven) and allow to cook for 3-4 hours until the meat is tender and pulls apart easily. With the homecooker, you'll have to set it to 99 mins for the first round and see how tender the meat is at that point. You can set it for another hour or so after that.

4. In the meantime, make the gnocchi.

5. Place the potatoes on a baking sheet and bake for 45 minutes "" 1 hour until a skewer is easily inserted.

6. Remove from the oven and allow to cool slightly.

7. Halve the potatoes and scoop the flesh into a bowl.

8. Place the Parmesan into the bowl with the potatoes. Using a potato masher/fork, mash until there are no lumps.

9. Add the egg yolks and mix well.

10. Add the flour, ½ cup at a time and mix in gently, you don"™t want to over-work the dough. I only needed 1.5 cups of flour for my gnocchi but some mixtures might need a bit more. It"™s best to make sure your potatoes are quite dry before adding the flour though as the more flour you add, the tougher your gnocchi will be.

11. When you"™ve added enough flour to result in a soft dough, break tennis ball sized pieces off of the dough and roll into long strips on a floured surface. cut the strip into 1cm gnocchis and place on a tray covered with semolina until you are ready to cook them. If you like, you can also use a fork to make indents in the gnocchi which create little spaces to suck up more of the ragu sauce.

12. When the beef is cooked and soft, remove from the oven. Turn the heat up to 220°c (same with the homecooker). Shred the beef with two forks and place back in the sauce. Adjust the seasoning of the sauce if needed. Place the ragu back in the oven and allow to cook for another 20 minutes.

13. To cook the gnocchi, bring a large pot of salted water to the boil and drop the gnocchi in carefully. When they float to the surface they are ready. Remove them with a slotted spoon and place straight into the ragu.

14. Serve immediately.
Recipes by Course
Recipes by Main Ingredient
Recipes by Cuisine
Recipes by Preparation
Recipes by Occasion
Recipes by Dietary