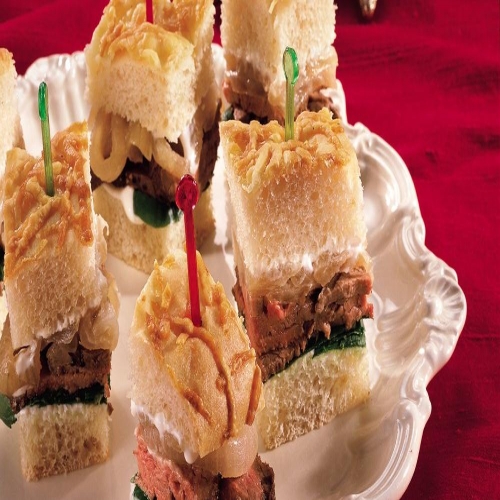 Prep Time:

45 Minutes

Cooking Time:

45 Minutes

Serves:

36 Servings
Beef Tenderloin and Caramelized Onion Sandwiches
Category: Main Dish, Beef, Sandwiches
Ingredients List
1 teaspoon salt
1/4 teaspoon garlic powder
1/4 teaspoon paprika
1/4 teaspoon coarse ground black pepper
1 (1-lb.) beef tenderloin, trimmed
3 tablespoons butter
1 tablespoon oil
2 tablespoons brown sugar
3 medium onions, cut into 1/4-inch-thick slices
2 tablespoons dry red wine or water
1/2 cup sour cream
1 tablespoon purchased horseradish sauce
1 (10-inch) round loaf focaccia (Italian flat bread)
1 1/2 cups firmly packed baby spinach leaves
Cocktail toothpicks
Directions

1. Heat oven to 450°F. In small bowl, combine 1/2 teaspoon of the salt, the garlic powder, paprika and pepper; mix well. Rub mixture on all surfaces of beef tenderloin. Place beef in small shallow roasting pan; tuck thin end under.

2. Bake at 450°F. for 20 to 25 minutes or until meat thermometer inserted in center registers 140°F. for rare. Cool 30 minutes or until completely cooled. If desired, wrap tightly; refrigerate until serving time.

3. Meanwhile, in large skillet, heat butter and oil over medium heat until butter melts. Add brown sugar and onions; stir to coat. Cook over medium heat for 10 minutes or until onions begin to soften, stirring occasionally. Add wine. Reduce heat to medium-low; cover and cook 10 to 15 minutes or until onions are very tender. Cover; refrigerate until serving time.

4. To serve, in small bowl, combine sour cream, horseradish sauce and remaining 1/2 teaspoon salt; mix well. Heat focaccia as directed on package; cut in half horizontally. Spread both cut sides with sour cream mixture. Arrange spinach leaves on bottom half of focaccia.

5. Slice beef very thin; layer over spinach. Top with onions and top half of focaccia; press down. Insert toothpicks through all layers at 1 1/4 to 1 1/2-inch intervals. Cut between toothpicks to form tiny sandwich squares.


Recipes by Course
Recipes by Main Ingredient
Recipes by Cuisine
Recipes by Preparation
Recipes by Occasion
Recipes by Dietary