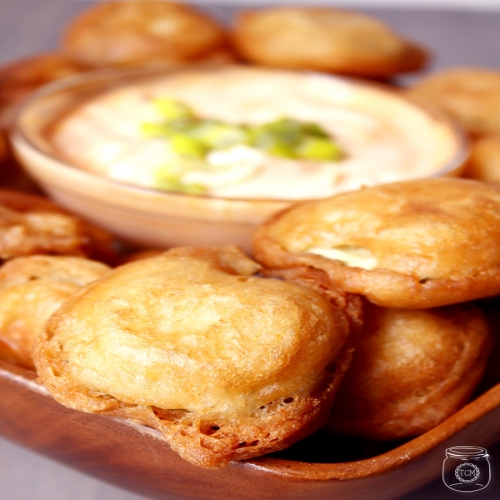 Prep Time:
Cooking Time:
Serves:
Beer Battered Fried Pickles with Sriracha Dipping Sauce
Category: Holiday, Dinner Party, Desserts
Ingredients List
>>>>> For Fried Pickles in Beer Batter:
1 cup of all purpose flour
1/4 cup of all purpose flour for dredging
1 teaspoon of baking soda
1 egg
1 cup of your favorite beer
salt"¦pepper to taste
1 teaspoon of paprika
Approximately 30 Bread and Butter pickles drained and patted dry
2 inches of canola or vegetable oil for frying
>>> For Sriracha Dipping Sauce:
1/2 cup of Greek Plain Yogurt
1/4 cup of good Mayo
1/4 cup of Sour Cream
2 tablespoons of Sriracha (you can add more or less depending on what you enjoy
4 scallions sliced real thin (reserve some for garnish)
Directions
Fried Pickles in Beer Batter:
1. Crack your egg in a medium mixing bowl and beat it till foamy
2. Add your flour"¦baking soda and seasonings to the egg and mix
3. Now slowly pour your beer in bit by bit"¦lightly mixing each time till the beer is gone
4. Don"™t over mix"¦but make sure the mixture is smooth.
(If you like a thicker batter covering you are done making your batter"¦but if you would like it a bit thinner"¦add some extra beer till it is the consistency you would like"¦the thinner the batter the lighter the coating.
5. Now take the reserved flour and place it on a plate. Now dredge the pickles through it"¦covering both sides. This way the batter will adhere nicely
6. Fill your favorite frying pan with about 2 inches of oil and bring to approximately to approximately 325 degrees or when you drop a drip of the batter it sizzles! The oil is ready. Take 1/3 of your pickles and mix them in the batter and then carefully drop them into the hot oil"¦they will take approximately 2 minutes on each side"¦but keep an eye out for that golden brown and then flip.
7. Transfer your pickles to a dish covered with paper towels and allow them to drain a bit"¦then move them to the serving basket"¦they are ready to be devoured!

For Sriracha Dipping Sauce:
Real simple"¦mix everything together and garnish! Remember"¦you can change the amounts"¦if you like Sour Cream more than Yogurt"¦change it out"¦etc. and if you think of something you want to add"¦HAVE FUN!

Now Serve them up and be happy!
Recipes by Course
Recipes by Main Ingredient
Recipes by Cuisine
Recipes by Preparation
Recipes by Occasion
Recipes by Dietary