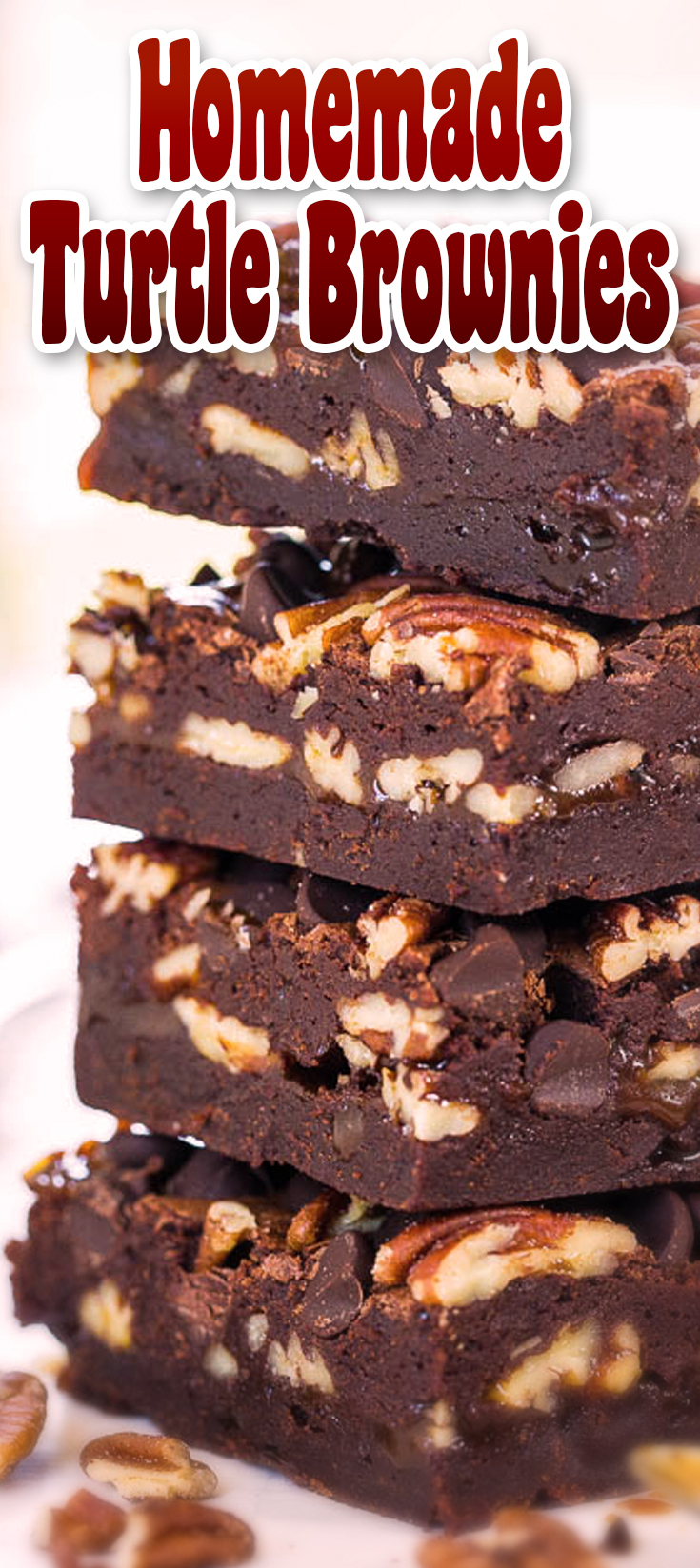 Prep Time:

15 mins

Cooking Time:

40 mins

Serves:

12
Best Turtle Brownies Recipes
Recipe Submitted by

maryjosh

on

05/05/2020
Ingredients List
Brownies:
1/2 cup unsalted butter (1 stick)
6 ounces dark or bittersweet chocolate, chopped (I used Trader Joe's 72% Pound Plus Bar)
2 large eggs
3/4 cup granulated sugar
1 tablespoon vanilla extract
1 tablespoon brewed coffee (leftover or cold coffee is okay), optional but recommended
1 teaspoon instant espresso granules, optional but recommended
pinch salt, optional and to taste
3/4 cup all-purpose flour
Filling:
8 ounces (salted) caramel sauce (use The Best & Easiest Homemade Salted Caramel Sauce, Trader Joe's, or another favorite; plain is okay but I prefer salted caramel. Don't use ice cream sundae sauce, it's too thin)
1 heaping cup pecans (I use roasted, salted, unchopped pecan halves; toast raw nuts for 5 to 10 minutes in a 400F oven to enhance flavor)
Topping:
1/2 cup semi-sweet chocolate chips
1/2 cup pecans
Directions
Preheat oven to 350F. Line an 8-inch square pan with high-quality aluminum foil such as Reynold's Non-Stick (highly recommended so caramel doesn't stick to pan) leaving overhang and spray with cooking spray, or grease and flour the pan; set aside.
Brownies – In a large microwave-safe bowl, add the butter, chocolate, and heat on high power to melt, about 2 minutes. Stop to check and stir after 1 minute. Heat in 15-second increments until chocolate has melted and mixture can be stirred smooth. Allow mixture to cool momentarily before adding the eggs so they don't scramble.
Add the eggs, sugar, vanilla, optional coffee, optional espresso granules (neither make brownies taste like coffee and both enhance and round out the chocolate flavor), optional salt, and whisk vigorously to combine.
Add the flour and stir until smooth and combined.
Turn half the batter out into prepared pan (I draw an imaginary line down the center of the batter with my spatula while it's in the mixing bowl andeyeballing it, I pour half into pan); reserve remainder.

Bake for 15 to 16 minutes, or until top has just set in the center; don't overbake because pan is going back into oven. While brownies bake, prepare the filling.
Filling – In a medium bowl, add caramel (microwave it for 10 seconds if your is very thick or hard to get out of the jar), pecans, and stir to combine; set aside.
After brownies have baked for about 15 minutes, remove pan from oven and using a spatula carefully and evenly spread the filling mixture over the brownies, taking care to not let the filling plop down in one spot because it will be difficult to spread without disturbing the brownie layer.
Evenly top with reserved brownie batter, smoothing it lightly with a spatula. It's normal for it to have thickened up some.
Topping – Evenly sprinkle the chocolate chips.
Evenly sprinkle the pecans.
Bake for about 24 to 25 minutes, or until center has just set and is no longer glossy. It's a bit hard to tell when done because center is buried under chocolate chips and pecans, but if you look closely you'll be able to determine if you're looking at raw brownie batter or just melted chocolate chips. The toothpick test is unreliable because you're going to hit melted chocolate chips and then gooey caramel sauce so it's better to just eyeball it.
Allow brownies to cool in pan on top of a wire rack for at least 3 hours. Cover with a sheet of foil to prevent fridge smells, and place pan in fridge for about 2 hours, or until sufficiently chilled for slicing. Lift brownies out using foil overhang, slice, and serve. Brownies will keep airtight at room temp for up to 1 week, in the fridge for up to 2 weeks, or in the freezer for up to 6 months. I prefer these brownies slightly chilled and store them in the fridge.
Recipes by Course
Recipes by Main Ingredient
Recipes by Cuisine
Recipes by Preparation
Recipes by Occasion
Recipes by Dietary