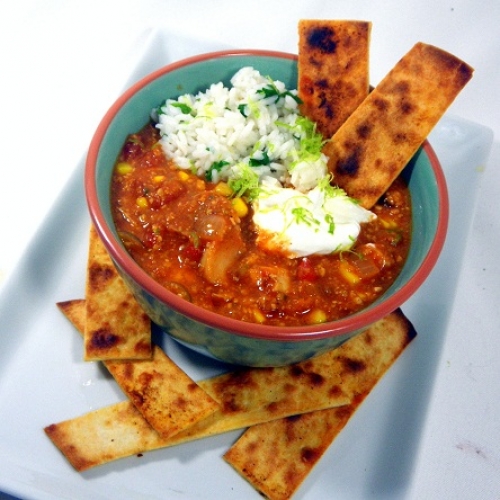 Prep Time:
Cooking Time:
Serves:
Better Than Chili's Enchilada Soup
Category: Soups, Chili
Ingredients List
2 TBS Olive Oil
2 Medium Onion. Large Dice (quarter size), (divided, added to the stew at different times)
4 Cloves Garlic, Minced
2 Cups Chicken Stock
1 tsp Ground Cumin
2 tsp Chili Powder
1 tsp Fresh ground Black pepper
1/2 tsp Cayenne Pepper
1/2 Jar (1 Cup) Marinara Sauce (I can my own, but any store bought jar of spaghetti sauce will work)
1 small can of Tomato Paste
12 Corn tortilla Chips (yep, nacho chips, works great as a soup thickener)
8 OZ Colby Jack Cheese, grated
8 OZ Cheddar Cheese, grated
2 Whole Tomatoes, diced (divided, added to the stew at different times)
1 Cups Frozen Corn, thawed by running hot water while straining
2 Cups Meat from a Rotisserie Chicken (I used one breast and one leg/thigh quarter)
1 Cup Half and Half
Juice of 1/2 a Lime
Salt and Pepper to Taste
Garnish with Sour Cream, Herb Rice, Lime zest and crunchy Tortilla Strips
Directions
1. This is a crock pot recipe made in two stages. First can cook all day while the final stage will take an hour before it is ready to serve... First, set your crock pot to high.

2. Heat 2 TBS Olive Oil in a heavy frying pan. Add 1 Onion and saute until softened and they turn translucent.

3. Once the onions soften, add the garlic and saute for another 2 minutes.

4. Transfer to a crock pot and add the Chicken Stock.

5. Add the spices, Chili Powder, Cumin, Black and Cayenne Pepper

6. Add the Marinara Sauce and Tomato Paste and stir to combine.

7. Add the cheeses and the tortilla chips (crumbled) and again... Stir to combine and allow to melt (about 20 minutes set on high)

8. Add one diced tomato, stir to mix and cover the crock pot. Now you are done for a couple of hours set on high or for several hours set on low.

9. One hour before you plan to serve, add 1 cup Half and Half

10. Take a wand hand blender and blend away until smooth. Taste the soup and add any additional spices as needed (note, the tortilla chips are heavily salted, so be careful about adding additional salt).

11. Add Chicken, Diced about same size as the tomato

12. Add Onion, Diced about same size as the tomato

13. Add the juice of 1/2 a lime

14. Add the Rotisserie Chicken Meat (again... Diced) and the corn

15. Stir to mix... Cover and set Crock pot on High for one hour

16. Taste and add additional seasonings as needed...

17. Add one more Tomato, large dice, one more stir, not too much, save the texture of the raw tomatoes, no mush)

18. Garnish with Rice, Sour Cream, Lime Zest and/or tortilla strips

19. Serve HOT and ENJOY!

Recipes by Course
Recipes by Main Ingredient
Recipes by Cuisine
Recipes by Preparation
Recipes by Occasion
Recipes by Dietary