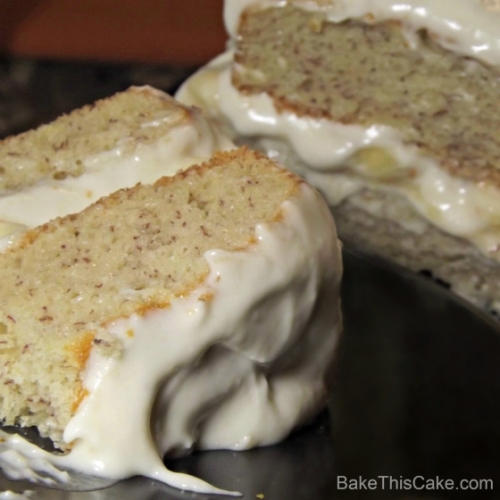 Prep Time:
Cooking Time:
Serves:
Betty's Banana Layer Cake Recipe
Category: Holiday, Kids, Cakes, Fruit
Ingredients List
2 large eggs
1 cup mashed ripe bananas (about 3 large spotted bananas)
2-1/2 cups cake flour
2-1/2 teaspoons baking powder
1/2 teaspoon baking soda
1/2 teaspoon salt
1/2 cup unsalted butter
1 cup granulated sugar
1 teaspoon vanilla extract, fine quality
1/4 cup of buttermilk (or 1/4 cup milk with 1/2 teaspoon of white vinegar)
Directions
1. Prep The Eggs:
As a prep step, let"™s bring to room temperature in a cup of warm water: 2 large eggs (in their shells)

2. Prep The Oven:
Place an oven rack in center position and pre-heat oven to 375 degrees.

3. Prep The Pans:
Prepare two 9"³ cake pans by buttering them and lining the bottoms with parchment.
Tip: Press 2 squares of parchment into the bottom of one of the cake pans, making a finger indent at the edges of the pan, then cut the circles from that template. :) EEZY PEEZY! Butter the tops of the parchment (just for luck, although I don"™t think it"™s necessary). :)

4. Prep The Bananas:
Get your hands on 3 (or maybe 4) large ripe bananas. The fruit should be ripe and spotted but not pure black (finding that black is better for banana bread).
Tip: We want some speckles to show through in the cake but we don"™t want a dark brown cake. :)
Double Tip: You can make this cake with regular unripe bananas, although the bananas will have to be mashed well and I would add a tablespoon of honey, noting that the cake will have a slightly different texture and the color will be different.
Triple Tip: To get bananas to ripen more quickly, place them in a paper bag with some apple slices (and maybe even set them in the warm sun for a bit).

5. Prep The Dry Ingredients:
Measure out into a large bowl all the dry ingredients:
2-1/2 cups cake flour
2-1/2 teaspoons baking powder
1/2 teaspoon baking soda
1/2 teaspoon salt

6. Cream The Butter And Sugar:
Microwave for a few seconds until room temperature:
1/2 cup (1 cube or stick) unsalted butter
In a large bowl (or the stand mixer bowl), measure out:
1 cup sugar
the prepared room temp butter
Using the mixer, beat the sugar and butter on high for about 3 minutes until light and creamy.
Tip: There will be some granules still showing that will soon disappear. :)

7. Adding The Eggs:
Fork beat in a small bowl or cup and then beat into the creamed sugar-butter mixture on high:
2 large eggs
Tip: The original recipe calls for the eggs to be cracked and beat one at a time (and you can do that too, no biggie). We just think it gets a little fluffier when you pre-mix the eggs before adding them to the batter.

8. Adding The Vanilla:
Beat into the batter on medium speed until fully incorporated (about 30 seconds):
2 teaspoon vanilla extract, fine quality
Tip: You can use the original solo teaspoon of vanilla, but we doubled it for extra goodness.

9. Sour Milk Or Buttermilk:
Let"™s make some "sour milk" old-school-style (or just use 1/4 cup of buttermilk, or you may even use dry cultured buttermilk mixed with warm water according to the dry buttermilk directions):
Making Sour Milk:
In a small bowl or cup, mix together and let sit on the counter for 5 minutes:
1/4 cup milk (we used 2%)
1 teaspoon white vinegar

10. Mixing Bananas With Sour Milk:
Place the prepared mashed bananas in a bowl and, using a fork, stir in the sour milk (or buttermilk) until thoroughly blended.
Tip: We"™re following the original recipe that calls for mixing the mashed bananas with the sour milk although there are lots of other banana cake baking techniques that skip this segregated sour milk and banana step "" but since the cake turned out great, we"™re keeping this step in place just as written.

11. Adding Mashed Bananas & Flour Mixture to Batter:
Add the banana-sour milk mixture and the prepared flour mixture in partial batches to the batter and blend with the electric blender on low-speed until just incorporated, about 30 seconds.

12. Batter Up The Pans, Bake & Cool:
Divide the batter evenly between the pans and smooth the top of the batter with a spatula if needed.


Recipes by Course
Recipes by Main Ingredient
Recipes by Cuisine
Recipes by Preparation
Recipes by Occasion
Recipes by Dietary