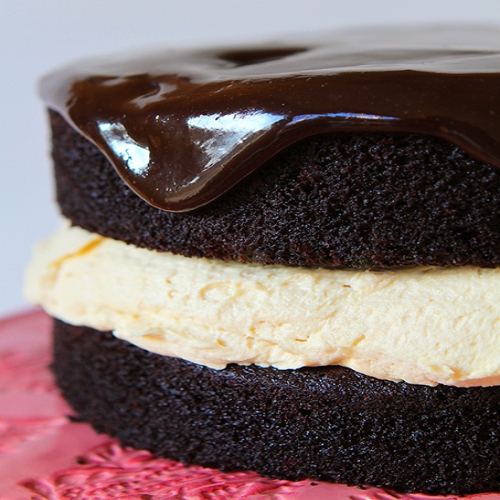 Prep Time:
Cooking Time:
Serves:
Category: Kids, Holiday, Chocolate, Eggs, Cakes
Ingredients List
=========Cake===========
1 1/2 cups all-purpose flour
2/3 cup unsweetened cocoa powder
1 1/2 teaspoons baking powder
1 teaspoon baking soda
1/2 teaspoon salt
10 tablespoons unsalted butter, softened
1 1/2 cups granulated sugar
1 cup buttermilk
3 eggs
2 teaspoons vanilla extract
=========Filling===========
1 cup butter, softened
1/2 cup Creamy Biscoff Spread
4 cups powered sugar, divided
1/4 cup heavy cream (or milk)
2 teaspoons vanilla extract
===============Glaze===============
14-ounces sweetened condensed milk
1 cup dark chocolate
3 tablespoons Creamy Biscoff Spread
1 teaspoon vanilla extract
Directions
=======Cake========

1. Heat oven to 350 degrees F. Spray two 9-inch round cake pans with nonstick cooking spray.

2. Whisk together flour, cocoa powder, baking powder, baking soda and salt in medium bowl. Set aside.

3. In a large bowl using a handheld miser or stand mixer with paddle attachment, cream together the butter and sugar until light and fluffy and lighter in color.

4. Slowly add buttermilk, eggs, and vanilla.

5. Add the dry ingredients 1/2 cup at a time to the wet ingredients in your mixer bowl until incorporated, about 2 minutes.

6. Divide batter between prepared cake pans.

7. Bake for 30-35 minutes or until a toothpick inserted into cake comes out clean.

8. Cool cakes for 10 minutes, then remove to a wire rack to cool completely.

===========Filling===========


1. In a large bowl using a handheld mixer or a stand mixer with a paddle attachment, cream butter and Biscoff Spread until smooth and fluffy (about 4 minutes).

2. Slowly add 2 cups of powdered sugar.

3. Pour in heavy cream (or milk) and add vanilla.

4. Gradually incorporate the final 2 cups of the powdered sugar.

5. mix on low speed until all the ingredients are smooth and mixed well.

===========Glaze================

1. In a saucepan over medium heat combine the condensed milk, chocolate chips and Biscoff Spread.

2. Stir constantly until the chocolate chips are melted and the mixture is smooth. Do not allow to come to a boil.

3. Remove from heat and stir in vanilla.

4. Let set for a few minutes while you assemble the cake.

5. If the mixture gets too cool you can heat it up again just before pouring over the cake.

===========Assembling the Cake=============

1. Level cake rounds and place bottom layer on a cake stand or large plate.

2. Spread filing (it will be a thick layer).

3. Top with second cake round.

4. Pour glaze over the top of the cake, letting it run down over the sides.
Recipes by Course
Recipes by Main Ingredient
Recipes by Cuisine
Recipes by Preparation
Recipes by Occasion
Recipes by Dietary