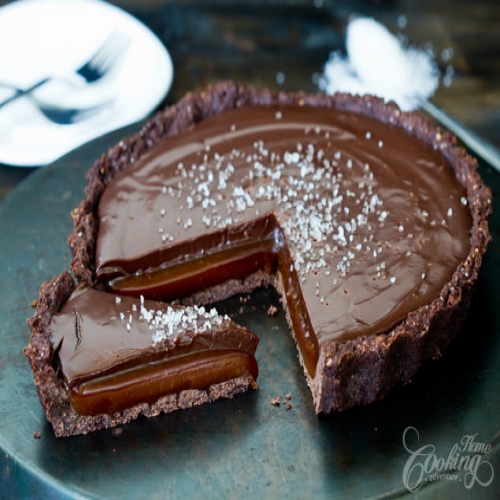 Prep Time:
Cooking Time:
Serves:
Bittersweet Chocolate Salted Caramel Tart
Recipe Submitted by

Cobb

on

11/21/2014
Category: Kids, Desserts, Chocolate
Ingredients List
1 1/4 cups flour
1/4 cup ground almonds
1/4 cup unsweetened cocoa powder
1/4 cup sugar
1/4 tsp salt
1 stick (110 g) cold unsalted butter, cut into small (1/2-inch) cubes
1 tsp vanilla extract
1 egg
1-2 tbsp ice water
Caramel
1 1/2 cups sugar
1/2 cup water
1/2 cup heavy cream
5 tbsp (70 g) unsalted butter
1 tsp salt
~~ Chocolate Ganache ~~
1/2 cup heavy cream
4 oz (120g) bittersweet chocolate, chopped
Garnish
sea salt crystals
Directions
Prepare the sweet pastry. In a large bowl mix flour with ground almonds, cocoa powder, sugar and salt.
Chocolate Caramel Tart step 1Chocolate Caramel Tart step 2Chocolate Caramel Tart step 3Chocolate Caramel Tart step 4
Incorporate butter to the flour mixture, using a pastry blender, a fork or a pastry processor, until crumbs are formed. Add the egg and vanilla extract and mix them in. Add water and incorporate into the dough. Wrap it with plastic, knead slowly to form a disc and refrigerate for at least 30 minutes or overnight.
Chocolate Caramel Tart step 5Chocolate Caramel Tart step 6Chocolate Caramel Tart step 7Chocolate Caramel Tart step 8Chocolate Caramel Tart step 9Chocolate Caramel Tart step 10
On o floured surface or over the plastic wrap roll the dough to a circle with about 1 1/2 inches larger than your tart pan. Lift up the rolled dough and place it on a greased 9 inch tart pan. Remove the edges and refrigerate for 30 minutes before baking.
Chocolate Caramel Tart step 11Chocolate Caramel Tart step 12Chocolate Caramel Tart step 13Chocolate Caramel Tart step 14Chocolate Caramel Tart step 15Chocolate Caramel Tart step 16
Prick the dough with a fork, line a parchment paper over the dough. Fill with dry beans, rice or pie weights.
Chocolate Caramel Tart step 17Chocolate Caramel Tart step 18
Bake for 15 minutes in preheated 350 F (180C) oven. Remove the weights and the parchment paper. Return to oven for another 10 to 15 minutes. Allow to cool before removing from the tart pan.
Chocolate Caramel Tart step 19Chocolate Caramel Tart step 20
Prepare the caramel. Place the sugar and water in a medium heavy bottomed saucepan over medium-high heat, and cook without stirring until sugar dissolves and gets a caramel color.
Chocolate Caramel Tart step 21Chocolate Caramel Tart step 22
Remove the pan from the heat and add the cream. It will bubble a little bit.
Chocolate Caramel Tart step 23Chocolate Caramel Tart step 24
Cook for about 1 or 2 minutes stirring constantly with a wooden spoon until smooth. Remove from heat and add butter and salt. Stir well until smooth.
Chocolate Caramel Tart step 25Chocolate Caramel Tart step 26
Let the caramel cool slightly and pour over the chocolate crust. Refrigerate for about 4-5 hours.
Chocolate Caramel Tart step 27Chocolate Caramel Tart step 28
Prepare the chocolate ganache. Heat the cream in a small saucepan. When the cream just begins to boil at the edges, remove from heat and pour over the chopped chocolate. Let sit one minute, then stir until smooth.
Chocolate Caramel Tart step 29Chocolate Caramel Tart step 30Chocolate Caramel Tart step 31Chocolate Caramel Tart step 32
Pour the chocolate ganache over the caramel. Spread it evenly and refrigerate for another 2-3 hours before serving. Sprinkle with sea salt flakes and serve.
Recipes by Course
Recipes by Main Ingredient
Recipes by Cuisine
Recipes by Preparation
Recipes by Occasion
Recipes by Dietary