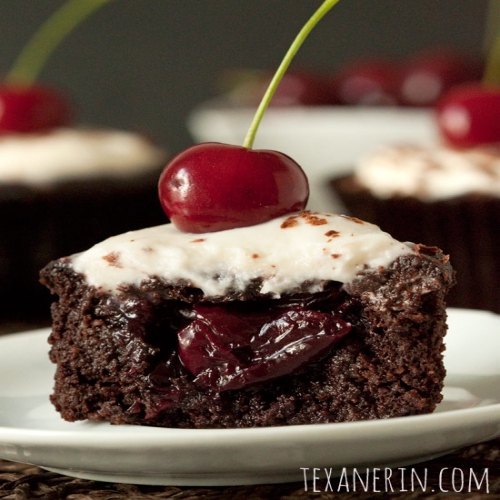 Prep Time:

20-minutes

Cooking Time:

30-minutes

Serves:

8 servings
Category: Kids, Holiday, Fruit, Eggs, Cakes
Ingredients List
40 grams (1.4oz, ~â…" cup but please weigh!) almond flour or almond meal
¾ teaspoon baking powder
â…› teaspoon salt
½ cup (52 grams) Dutch-process cocoa powder
65 grams (2.2oz / ~ 4½ tablespoons) coconut oil, melted
â…" cup (106 grams) honey
5 tablespoons unsweetened applesauce
2 eggs
1½ teaspoons vanilla extract
==============Filling=================
2 cups pitted cherries (the weight pre-pitting was 190 grams)
¼ cup (80 grams) honey
4 teaspoons lemon juice
Topping:
½ cup (120ml) whipping cream (for dairy-free, use my coconut cream recipe)
1 tablespoon powdered sugar, optional
8 cherries
grated chocolate (if dairy-free, use Enjoy Life Chocolate Chips)
Directions
=====For the cupcakes=========

1. Preheat oven to 350°F (175°C) and line 8 muffin cups with paper liners.

2. Mix together the wet ingredients in a medium bowl and set aside.

3. In a smaller bowl, combine dry ingredients together and add this to the wet ingredients. Stir just until combined and be careful not to overmix!

4. Pour the batter evenly into the 8 paper liners. My liners were a little less then â…" full.

5. Bake for about 16 minutes or until a toothpick inserted in the middle of a cupcake comes out mostly clean. Moist crumbs and a little stickiness are okay - just not raw batter. These are incredibly moist so if the toothpick comes out totally clean (like a normal cupcake), they're probably overdone.

=========For the filling================

1. Put the cherries in a medium saucepan and smash them with the bottom of a glass. Add the honey and lemon juice and stir until combined.

2. Simmer for 15 minutes, stirring occasionally.

3. Let cool completely before filling the cupcakes.

==============To assemble the cupcakes==============

1. Use a paring knife to cut out a section of the cupcake, about 1 inch into the cupcake. Set these cut out portions aside.

2. Fill the cupcakes with the filling.

3. To prevent the cherry filling from bleeding, I cut off just the top part of the cupcake cutouts and placed it back on the cupcake.

4. For the whipped cream, beat the whipping cream and powdered sugar in a bowl until stiff peaks form.

5. Spoon this onto the top of the cupcakes.

6. Add grated chocolate and a cherry right before serving.
Store covered in the refrigerator for up to 4 days.

7. These are best enjoyed cold.
Recipes by Course
Recipes by Main Ingredient
Recipes by Cuisine
Recipes by Preparation
Recipes by Occasion
Recipes by Dietary