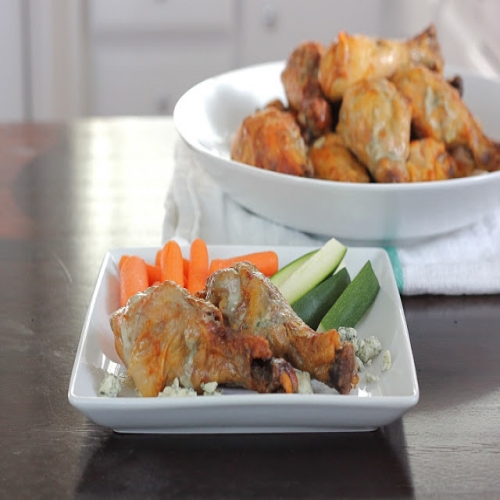 Prep Time:
Cooking Time:
Serves:

Makes 14 - 16 drumsticks
Blue Cheese Crusted Buffalo Drumsticks
Category: Cheese, Main Dish
Ingredients List
4 pounds chicken legs
1/2 tablespoon salt
1/2 tablespoon sweet or smoked paprika (your choice! I used sweet)
1/2 tablespoon onion powder
1 teaspoon garlic powder
1/2 teaspoon fresh ground pepper
1 cup Frank's Original Red Hot Sauce
1/4 cup melted ghee* or butter
1/4 cup chicken broth
1/2 cup bleu cheese crumbles
1 1/2 tablespoons milk or cream of your choice (I actually used coconut milk from the can)
Directions
In a small bowl mix the salt, paprika, onion powder, garlic powder, and pepper. Sprinkle over chicken coating all sides.

Place chicken in crock pot.

In a measuring cup or bowl, whisk together the Frank's Red Hot, melted butter or ghee, and 1/4 cup chicken broth. Pour over the chicken taking care to coat all the chicken legs.

Cover crock pot and cook on low for 8 hours.

When drumsticks are done cooking, pre-heat broiler. Line a baking pan with tinfoil. Carefully pull drumsticks out of crock pot, they will be meat falling off the bone tender, and place on the tinfoil lined pan.

Mix the bleu cheese crumbles and milk in a small bowl still they become a little "gluey". This will help the bleu cheese stick to the drumsticks. Spread about a teaspoon of bleu cheese mixture on to each drumstick.

Place pan of drumsticks in the broiler and broil for 3 to 4 minutes, until cheese is melted and skin is crispy.

Enjoy with more bleu cheese, carrots, celery, or raw zucchini in my case since I don't like celery.

*ghee is clarified butter, the milk fat is rendered from the butter to separate the milk solids and water from the butterfat. I happen to have ghee in my fridge, so I used it. It has a higher smoke point so it is better for frying or sautéing at higher temperatures. It is not at all necessary in this recipe and feel free to substitute regular butter.
Recipes by Course
Recipes by Main Ingredient
Recipes by Cuisine
Recipes by Preparation
Recipes by Occasion
Recipes by Dietary