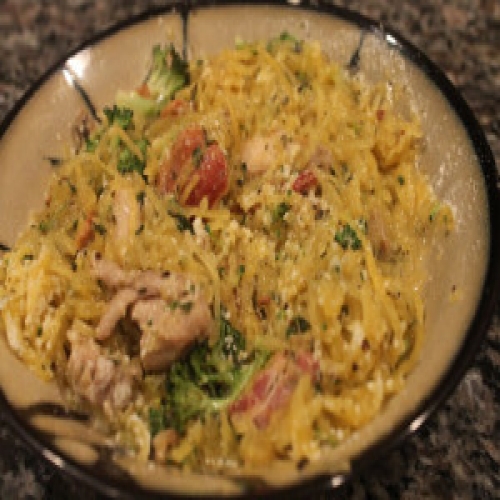 Prep Time:
Cooking Time:
Serves:
Broccoli Chicken Bacon Alfredo Recipe
Category: Main Dish, Chicken
Ingredients List
1 large spaghetti squash
2 lbs boneless skinless chicken thighs (you can also use chicken breast)
7 slices nitrate free bacon cut in pieces
1 cup coconut milk
3 tsp dried basil
3 tsp dried parsley
2 tsp garlic powder
2 tsp dried oregano
1 tsp thyme
1 head fresh broccoli (chopped)
salt and pepper to taste
coconut oil or olive oil
Parmesan cheese (optional)
Directions
This is what spaghetti squash looks like, it"™s found next to butternut and acorn squash. It"™s a seasonal item so you will pay less for it in the fall.

1. Preheat Oven to 375 degrees. Put squash in a baking pan and bake for about 1 hour 15 mins depending on size. You can use your oven mitt to squeeze it when done to see if it"™s soft, if not cook a little longer.

2. Let squash cool for about 10 mins, then cut in half with a knife and let it cool some more. I usually cook the squash all by itself hours before dinner to get it ready. Get a large spoon and scrap all the seeds out. It"™s just like a pumpkin. (pic shown below)


3. When squash is cool enough for you get a fork to start scraping all the spaghetti squash out, and put into your casserole dish.

4. You can basically just make spaghetti by adding your meat and sauce and be done, but we are going to take it a step forward. When you are done scraping it all out set aside, and now you can work on your meats and sauce.

5. Cut up your chicken into bite size pieces and cook in large sauce pan with coconut oil or olive oil for about 10 mins. Add salt, pepper and oregano to season. When done, pour all into a separate large bowl.

6. Now take your chopped bacon and throw it into the pan and cook until crispy.

7. When bacon is done, leave it in pan and add your canned coconut milk and all spices and cook for about 5 mins, then throw in your chopped chicken and chopped broccoli. If you add more veggies your sauce will not be as thick, so if you plan on adding a lot of veggies I would increase the sauce mixture.

8. Cook for about 2 more minutes then dump all of it into your casserole dish where your spaghetti squash is waiting. Use a fork to mix it all together.

9. Cook on 375 degrees for about 30 mins. Top with Parmesan cheese (optional). This is a great meal you can make on Sunday and freeze for dinner one day during the week! If you freeze it,defrost before cooking. Enjoy!
Recipes by Course
Recipes by Main Ingredient
Recipes by Cuisine
Recipes by Preparation
Recipes by Occasion
Recipes by Dietary