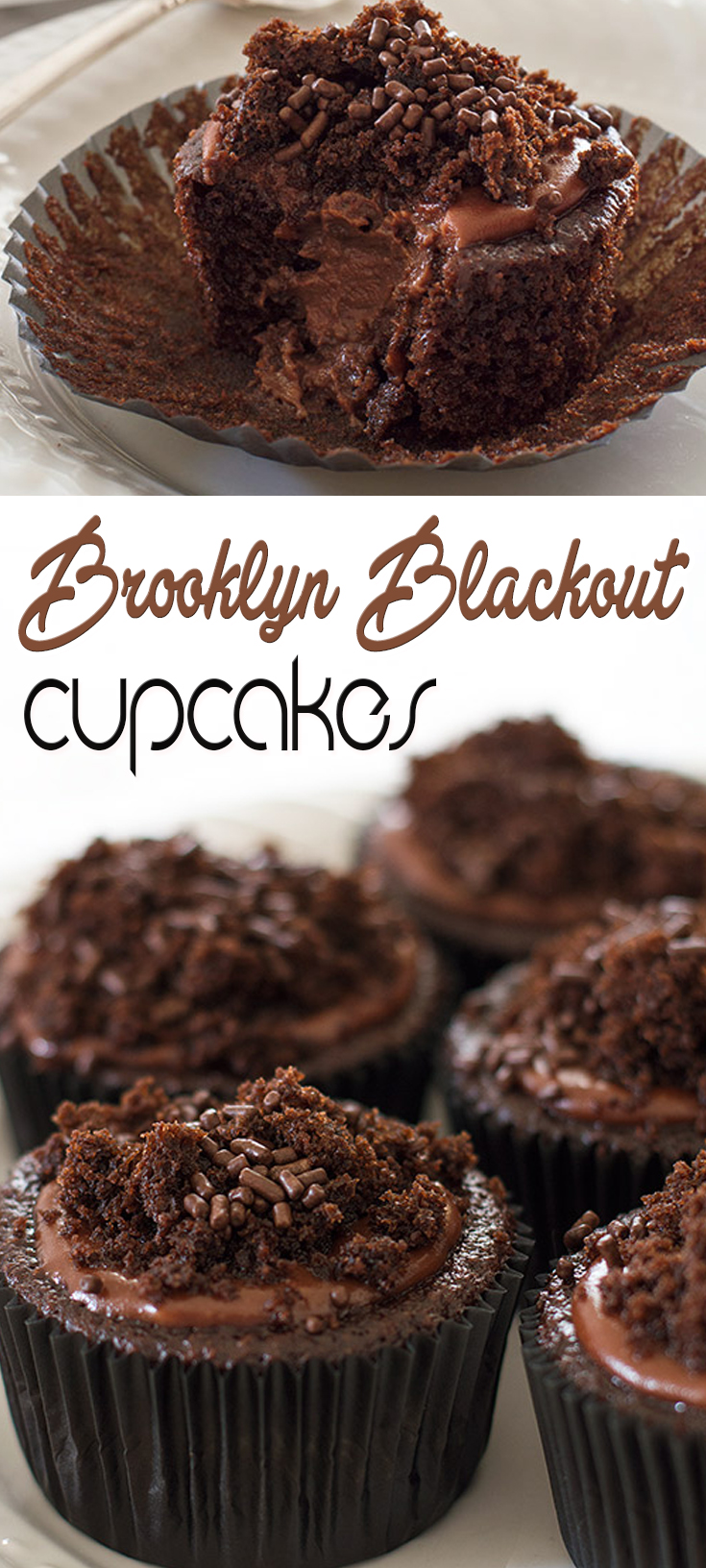 Prep Time:

30 minutes

Cooking Time:

18 minutes

Serves:

20
Brooklyn Blackout Cupcakes
Recipe Submitted by

maryjosh

on

09/29/2016
Ingredients List
Cupcakes
8 tablespoons (4oz, 1 stick) unsalted butter
1/2 cup (3oz) dark chocolate*, chopped
2 tablespoons and 1 teaspoon vegetable oil
3/4 cup and 2 tablespoons (105g) all-purpose flour
1/2 cup (40g) unsweetened cocoa powder, sifted
1 teaspoon baking powder
1/2 teaspoon baking soda
1/2 teaspoon salt
1 cup (200g) granulated sugar
2 large eggs and 1 large egg yolk, at room temperature
1 teaspoon vanilla extract
1/2 cup buttermilk
1/2 cup hot coffee
Pudding Filling
1/4 cup (50g) granulated sugar
2 tablespoons (15g) cornstarch
1/8 teaspoon salt
1 1/2 cups milk (any percent is fine)
1/2 cup (3oz) bittersweet chocolate, chopped (good-quality chocolate chips are fine)
1/2 teaspoon vanilla extract
Chocolate Glaze
4 tablespoons (2oz) unsalted butter
2 tablespoons milk
1 1/2 teaspoons light corn syrup
1 teaspoon vanilla extract
1/3 cup (2oz) semisweet chocolate, chopped (chips are fine)
1 cup (120g) powdered sugar, sifted*
Chocolate sprinkles
Directions
Cupcakes
Preheat oven to 350°F. Line 22 cupcake cups with liners.
In a medium microwave-safe bowl, microwave butter until almost completely melted. Add dark chocolate and oil and microwave for 30 seconds. Stir. Microwave for an additional 15 seconds if necessary, until chocolate is completely melted. Stir until well combined and set aside to cool.
In a medium bowl, whisk together flour, cocoa powder, baking powder, baking soda, and salt. Set aside.
In a large bowl, whisk together sugar, eggs, and vanilla extract. Whisk in cooled chocolate mixture. (It can be warm, but if it is hot to the touch, set aside for another couple of minutes. You don't want to scramble the eggs!)
Whisk in half of the flour mixture until just combined. Add all of the buttermilk and mix. Whisk in the last of the flour, mixing until just combined.
Whisk in the coffee.
Fill cupcake tins just under 2/3 of the way full. You should have about 22 cupcakes. Don't over fill!
Bake for 15-18 minutes, until a toothpick inserted into the center of the cupcakes comes out clean.
Pudding Filling
While your cupcakes bake, in a medium saucepan, combine sugar, cornstarch, and salt. Whisk in milk, pouring slowly so no lumps form.
Cook over medium-low heat, whisking out lumps occasionally until mixture is thick enough to coat the back of your spoon, about 6 to 10 minutes. The heat should be low enough that your pudding cooks without coming to a simmer. If it begins to simmer, turn the heat down.
Add chocolate and cook for 1 to 2 more minutes, until chocolate is completely mixed in and the mixture is thick. Add in vanilla and stir.
There will be some cornstarch lumps in your pudding. This is normal and you won't notice them when the pudding is stuffed into your cupcakes, but it they bother you, you can strain your pudding through a mesh strainer to get rid of them. Transfer your pudding to a storage container and refrigerate for at least 2 hours, until it finishes firming up.
Fill Cupcakes
Cut a cone shaped piece out of the center of 20 of the cupcakes, reserve the remaining 2. Cut the tip off of the cone and place in a separate bowl to use later, keep the tops.
Fill cupcakes with pudding and replace the tops.
Crumble the remaining two cupcakes and cupcake centers to create the crumb topping. Set aside.
Make the Glaze
Make sure you have all of your cupcakes filled and topping and sprinkles ready before starting the glaze. This glaze starts to set after 10 minutes or so, so you want to be able to put it directly onto the cupcakes. Combine butter, milk, corn syrup, and vanilla in a medium pot. Cook over medium heat until butter is melted. Whisk in chocolate and stir until incorporated. Remove from heat and immediately whisk in sifted powdered sugar and stir until mixture is smooth.
Spoon glaze over cupcakes. Do three or four at a time and then coat the batch with crumbs and sprinkles. Since this glaze sets, if you wait too long the crumbs/sprinkles won't stick to your cupcakes.
Repeat with the remaining cupcakes. If the glaze begins to harden, return to low heat and stir until smooth and spoonable again. Allow cupcakes glaze to set for 15 minutes before serving.
Recipes by Course
Recipes by Main Ingredient
Recipes by Cuisine
Recipes by Preparation
Recipes by Occasion
Recipes by Dietary