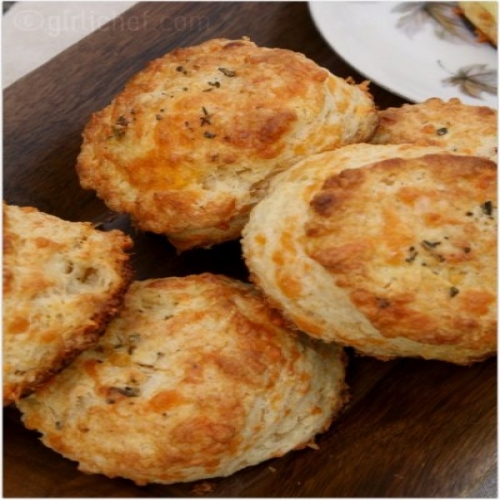 Prep Time:

10 Minutes

Cooking Time:

20-25 Minutes

Serves:
Buttermilk Cheddar Biscuits
Category: Breakfast, Biscuits
Ingredients List
2 cups all-purpose flour
1 Tbs. baking powder
1½ tsp. salt
6 oz. (12 Tbs./1½ sticks) cold unsalted butter, diced
½ c. cold buttermilk, shaken
1 cold extra-large egg
1 c. grated extra-sharp Cheddar
1 egg
splash of milk
Aromatic Salt or Maldon sea salt, optional
Directions
* Preheat the oven to 425° F.

* Toss the cheese with a Tablespoon or so of flour taken from the 2 cups. Set aside.

* Place flour, baking powder, and salt in a large bowl. Cut in butter using a pastry blender until you have a coarse meal and the butter is the size of peas.

* Combine the buttermilk and egg in a small measuring cup and beat lightly with a fork. Add to mixture and stir until just combined. Add reserved cheese and mix untiljust combined.

* Dump out onto a lightly floured board and knead gently about 6 times, but no more than twelve.

* Pat dough and gently roll dough out until it about an inch thick. Using lightly floured biscuit cutters, cut eight biscuits from dough and place on a parchment or silpat lined sheet tray.

* Beat egg with milk and brush the tops with the egg wash, sprinkle with salt (if using). Bake for 20-25 minutes, until the tops are deeply golden and the biscuits are cooked through.

* Good hot, warm, or at room temp.

*Notes:
If you only have large eggs, simply add a drop or two of the beaten egg you are going to use for the egg wash (before adding the milk) to the beaten egg in the dough mixture.
These are extremely soft, flaky, buttery, tender and delicious. Almost too much so (I have a hard time controlling myself when they're around).

Recipes by Course
Recipes by Main Ingredient
Recipes by Cuisine
Recipes by Preparation
Recipes by Occasion
Recipes by Dietary