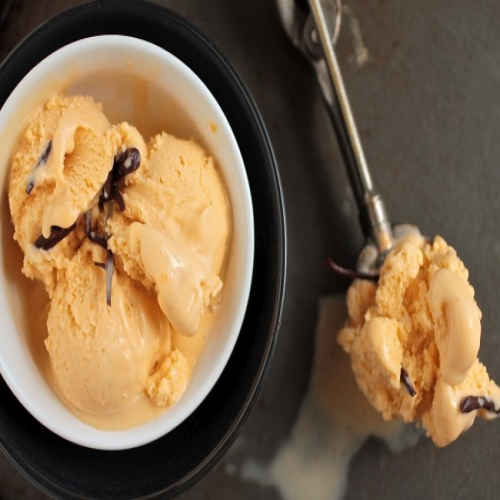 Prep Time:
Cooking Time:
Serves:

1 and 1/2 quarts
Butterscotch Ice Cream- Yuuummy!!!
Category: Holiday, Dinner Party, Frozen, Kids
Ingredients List
1 and 1/2 cups half-and-half
2 cups milk (whole is best, but I've used skim and it works fine!)
8 egg yolks
1 tsp. vanilla
1 and 1/4 cup sugar
1 cup butterscotch chips
2 tablespoons milk
1/2 cup semi-sweet chocolate chips
Directions
1. In a large saucepan, heat half-and-half and 2 cups milk together over medium heat.

2. In a separate bowl, whisk together egg yolks, sugar, and vanilla until the egg yolks have lightened. Set aside.

3. Melt together butterscotch chips and 2 Tablespoons of milk over a double broiler until butterscotch has melted.

4. Whisk the melted butterscotch into the milk/half-and-half mixture a little at a time, until combined. Bring this mixture to a simmer.

5. When butterscotch mixture has reached a simmer, temper it into the eggs by pouring a few tablespoons at a time into the egg yolks and whisking well between each addition. When you've added a little more than half of the hot liquid to the eggs, go ahead and add the remainder in all at once. This method of tempering will prevent the eggs from curdling while you cook your custard base.

6. When you've whisked the eggs and butterscotch mixture together, return it to the saucepan over low heat. Stir occasionally while it thickens, about 5 minutes, and remove from heat when mixture is thick enough to coat the back of a wooden spoon. (See my Classic Chocolate Ice Cream post for more on this technique}.

7. Remove the saucepan from the heat and let it cool for about 30 minutes.

8. When mixture has cooled slightly, pour it into a large container, cover it, and pop it in the fridge for at least 4 hours (preferably 8 hours or overnight).

9. When the mixture has chilled for at least four hours, pour it into an ice cream churner and churn according to manufacturer's instructions. It will be the consistency of frozen yogurt when it comes out of the ice cream maker - place it in a freezer-safe dish and cover it, then put it in the freezer to set (about 2 hours).

10. When you're ready to serve the ice cream, melt semi-sweet chocolate over a double boiler and drizzle it over the surface of the ice cream with a spoon to create artsy zig-zags. The chocolate lends a nice crunch and flavor to the ice cream - and it looks super pretty!

11. Serve and enjoy!
Recipes by Course
Recipes by Main Ingredient
Recipes by Cuisine
Recipes by Preparation
Recipes by Occasion
Recipes by Dietary