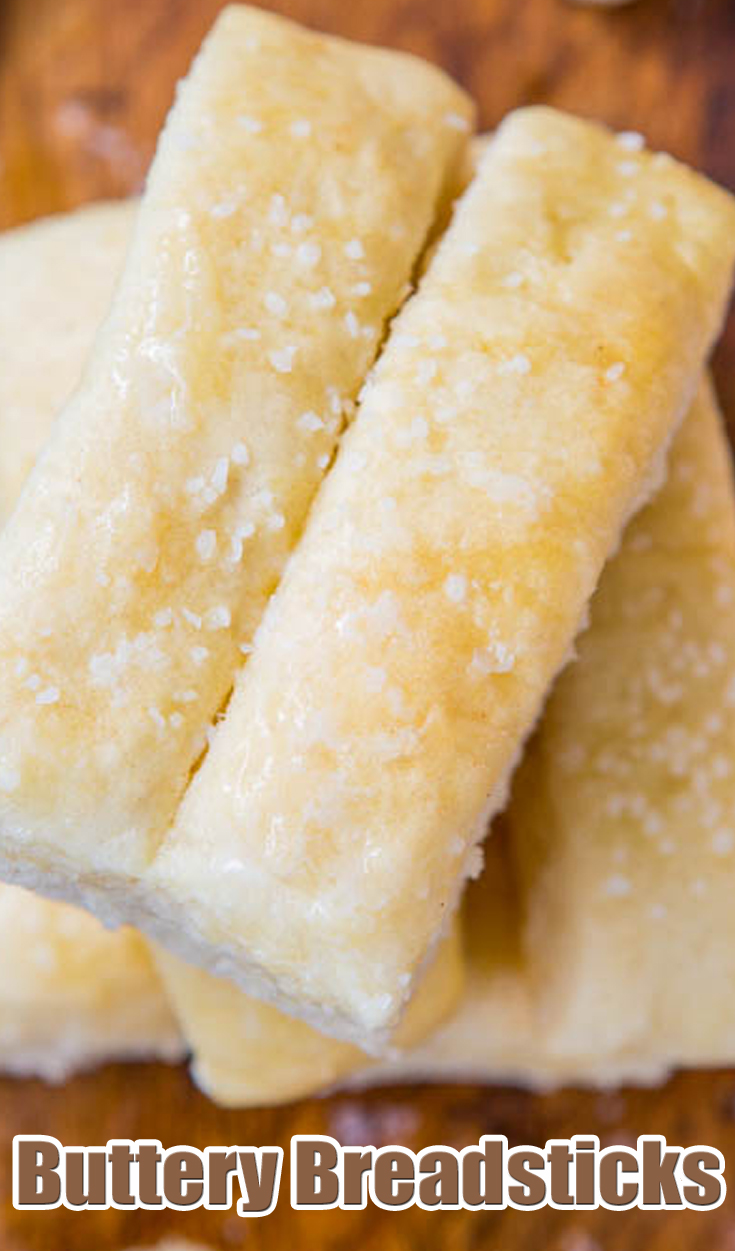 Prep Time:

20 MINUTES

Cooking Time:

20 MINUTES

Serves:

22
Buttery Breadsticks
Recipe Submitted by

maryjosh

on

07/09/2018
Ingredients List
2 1/4 cups all-purpose flour (bread flour may be substituted; breadsticks will be firmer and chewier rather than softer and fluffier; you may only need 2 cups bread flour)
1 cup water, warmed to manufacturer's directions
2 1/4 teaspoons instant dry yeast (one 1/4-ounce packet, I use Red Star Platinum)
1 tablespoon olive oil
1 teaspoon granulated sugar
1/2 teaspoon salt, optional and to taste (I prefer to sprinkle salt over the baked breadsticks than add it to the dough)
1/4 cup unsalted butter (or vegan buttery spread) melted for brushing/drizzling, divided
Kosher or sea salt for sprinkling, optional
cinnamon-sugar for sprinkling, optional (I use 2 tablespoons granulated sugar to 1 heaping teaspoon cinnamon)
Directions
To the bowl of a stand mixer fitted with the dough hook (or large mixing bowl and hand-knead), combine flour, water, yeast, oil, sugar, optional salt, and knead for about 7 minutes, or until dough is soft, smooth, and has come together in a firm mass. If hand-kneading, you may need to knead a few minutes longer. Note – Based brand of yeast used, water temperature will vary. Red Star Platinum yeast calls for a warmer temperature than most, 120 to 130F; other brands are much lower, about 95 to 105F. Warm water according to the yeast manufacturer's recommendations on the packaging. Taking the temperature with a digital thermometer is recommended, but if you're not, make sure the water is warm, not hot. Err on the cooler rather than hotter side so you don't kill the yeast.
Turn dough out onto a Silpat-lined or greased standard-sized baking sheet.
Using a rolling pin, roll dough into a rectangle that's approximately 8 inches by 12 inches, and about 1-inch thick. No need to measure, just eyeball it and roll into a rectangle that covers about two-thirds of a standard baking sheet. The dough may be a little stubborn to roll, very springy and may want to recoil, but just keep rolling and finessing until you've gotten it to the proper size. I find rotating the pan, flipping the dough over, rolling more, and repeating is helpful.
Score the dough with a pizza cutter. One long slice down the middle, and then I made 11 vertical slices, creating 22 breadsticks. Depending on the size and shape of your dough, and your size preference for breadsticks, you may get more or less breadsticks.
Cover the pan with a piece of plasticwrap and place it in a warm, draft-free, place to rise. Read carefully: A trick to creating a warm environment in the dead of winter or in a cold house is to power you oven on to 400F for 1 minute. Then power your oven off. In that 1 minute, your oven probably got to about 90F degrees inside, the temp on a nice, warm summer day, which is how yeast thrive. Quickly slide the baking sheet into the oven (again, your oven should be off) and let the dough rise for about 20 minutes.
After 20 minutes, remove the tray from the oven, put it on the stovetop, and preheat the oven (for real this time) to 350F. In total, the dough will have had about 30 minutes to rise before baking.
Before baking, generously brush dough with about half of the melted butter (or a vegan buttery spread); reserve remainder.
Optionally, sprinkle with Kosher salt and/or cinnamon-sugar. Or try Parmesan cheese, chives, garlic or onion powder, poppy or sesame seeds.
Bake for about 20 minutes, or until slightly golden, firm to the touch, and cooked through. After baking, drizzle with remaining melted butter.
Recipes by Course
Recipes by Main Ingredient
Recipes by Cuisine
Recipes by Preparation
Recipes by Occasion
Recipes by Dietary