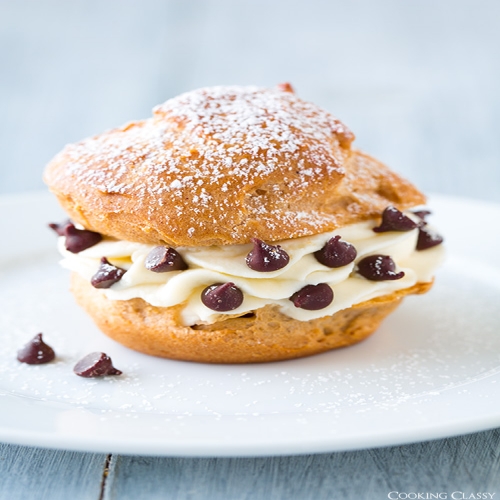 Prep Time:
Cooking Time:
Serves:

About 30
Ingredients List
1 cup all-purpose flour (5 3/4 oz)
3/4 tsp unsweetened cocoa powder
1/4 tsp ground cinnamon
1/2 cup water
1/2 cup milk (I used 1%)
6 Tbsp unsalted butter, diced into 1 tbsp pieces
1 Tbsp granulated sugar
1/4 tsp salt
1 cup eggs, about 4 whole large eggs and 2 egg whites
Mini semi-sweet chocolate chips or finely chopped chocolate
Chopped, unsalted pistachios
Powdered sugar, for dusting
:::::: Cannoli Cream Filling ::::::
24 oz. whole milk ricotta, strained*
16 oz. mascarpone
1 cup powdered sugar
Directions
For the Cannoli Cream Filling:

In a mixing bowl, using a rubber or silicone spatula, blend together ricotta and mascarpone cheese while running and pressing mixture along bottom of bowl to remove any lumps. Fold in powdered sugar. Cover and chill 30 minutes (or until ready to use).

Preheat oven to 425 degrees. Line two baking sheets with parchment paper or Silpats. In a mixing bowl, whisk together flour, cocoa powder and cinnamon, set aside. In a medium saucepan, combine water, milk, butter, sugar and salt and bring to a boil over medium heat, stirring occasionally to melt butter and dissolve sugar. Reduce heat to low, add flour mixture all at once and continue to cook, stirring constantly, until mixture forms ball, about 2 minutes. Transfer mixture to the bowl of an electric stand mixer and let cool, 3 minutes.

Using the paddle attachment, and with mixer set on low speed, beat eggs into dough one at a time (dough will separate after each egg is added, then it will slowly come together and become smooth). Transfer mixture to a large piping bag fitted with a round tip. Immediately pipe onto rounds, approximately 1 1/4-inches each, and spacing them 2-inches apart.

Bake in preheated oven 10 minutes, then reduce oven temperature to 375 and continue to cook 10 minutes longer, then turn oven off and allow to rest in warm oven 10 minute longer, or until they sound hollow when tapped. Remove from oven and pierce with a small knife to release steam. Cool completely on a wire rack then cut each in half. Pipe or spoon in cannoli cream filling. Sprinkle chocolate chips or chopped pistachios around edges of cream filling (I preferred mine with both). Dust with powdered sugar and for best results serve within 1 hour of filling.

*To strain mine, working in two batches, I placed the ricotta over several layers of paper towels then added more paper towels and squeezed some of the excess moisture out (you can do this twice if needed, you want to have some moisture but not a lot. Once the powdered sugar is added it makes it a bit runnier).
Recipes by Course
Recipes by Main Ingredient
Recipes by Cuisine
Recipes by Preparation
Recipes by Occasion
Recipes by Dietary