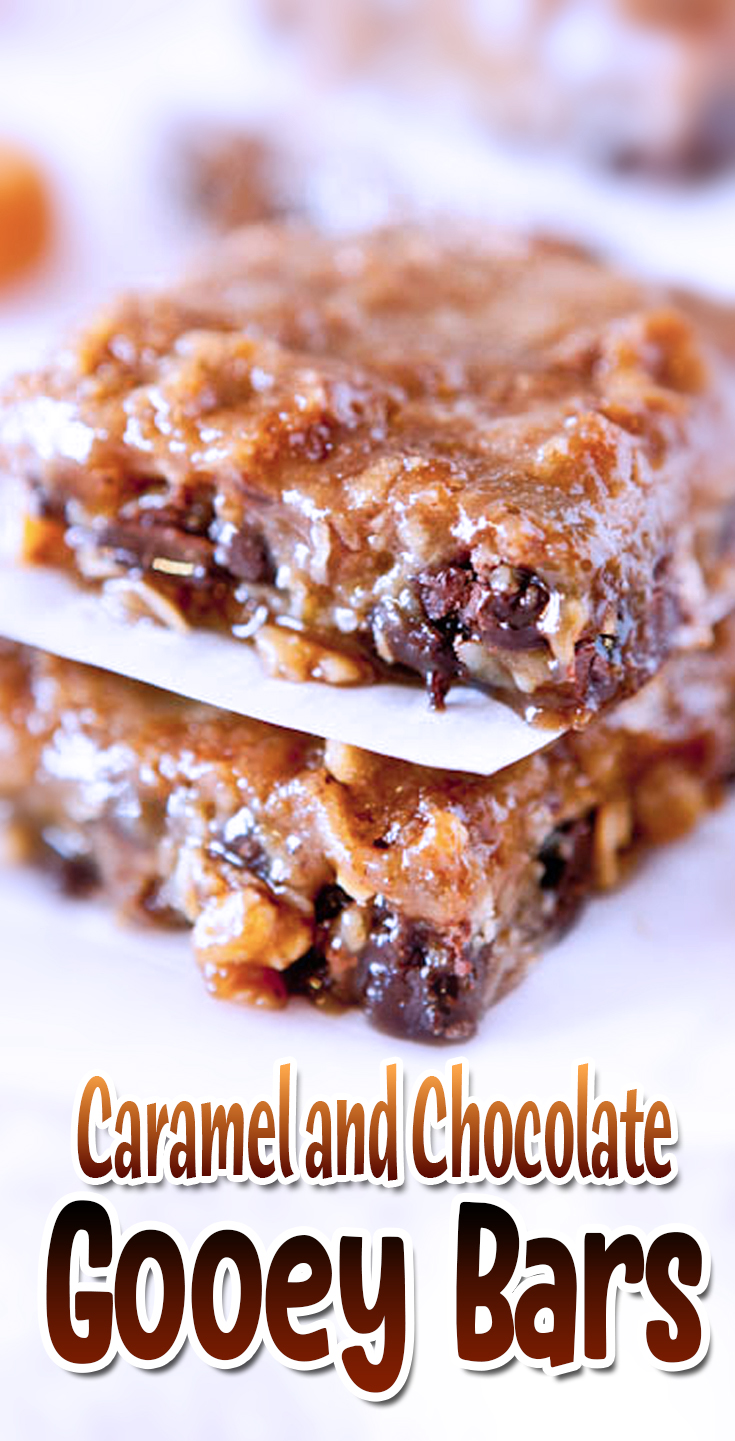 Prep Time:

10 mins

Cooking Time:

25 mins

Serves:

9
Caramel and Choco Gooey Bars
Recipe Submitted by

maryjosh

on

04/23/2020
Ingredients List
3/4 cups butter, melted
1 1/2 cups whole rolled oats
3/4 cup brown sugar, packed
1 teaspoon baking soda
1/2 cup all-purpose flour, optional*
1 teaspoon vanilla extract + 1 teaspoon vanilla extract
1 cup chocolate chips
35 caramel squares (or 2 cups caramel sauce)
2/3 cup half-and-half or cream
Directions
Preheat oven to 350F and line an 8 x 8-inch baking pan with aluminum foil, allowing for overhang (do not make this recipe unless you line your pan with foil) and spray the foil down very well with cooking spray.
In a large microwave-safe bowl, melt the butter.
To the melted butter add the oats, brown sugar, baking soda, flour*, one teaspoon vanilla, and stir to combine.
Pour just over half the oat-butter mixture (about 60%, eyeball it) into the bottom of the prepared baking pan, spread it evenly with a spatula, and bake for 9-10 minutes. The mixture will bubble up and foam considerably while baking. Watch it closely and the sides will show a bit of browning at about 9-10 minutes.
Remove pan from oven and let it rest and cool for 3 minutes, and then sprinkle the chocolate chips over the top in an even layer.
While the mixture is baking, unwrap the caramels and place them in a medium-sized saucepan that's been sprayed with cooking spray.
Add the cream to the caramels and melt over medium-high heat, stirring nearly continuously to prevent scorching or boiling. It may take 5 minutes for caramels to completely melt.
After mixture has melted, is smooth and combined, turn off the heat and add one teaspoon of vanilla, using caution because the vanilla will likely bubble up a bit, and stir to incorporate.
Pour the melted creamy caramel mixture over the top of the oat mixture that has been topped with chocolate chips. It will be very soupy, this is fine.
Take the remaining half (40%) of the oat-butter mixture and sprinkle it as evenly as possible over the top, using a spatula to gently spread the oats within the "caramel soup".
Place pan on top of a cookie sheet as a precaution for spill-over and bake for 14-16 minutes more, or until sides of the mixture are beginning to brown (Look closely in order to discern "browning edges" from the overall brown color of the caramel mixture when it's baking; they're very similar but distinct enough to differentiate). The mixture will be bubbling quite intensely while baking and watch it for signs of spilling over.
Remove pan from the oven and allow it to rest and completely cool on the countertop before attempting to slice the bars (at least two hours) or you can expedite the process by placing the pan in the freezer or refrigerator until sufficiently cool enough to slice (but not frozen).
Store bars in an airtight container in the refrigerator, or freezer, and freeze extras for up to 3 months. I stored these bars in the freezer because they were so gooey and they never froze solid (all that butter).
Recipes by Course
Recipes by Main Ingredient
Recipes by Cuisine
Recipes by Preparation
Recipes by Occasion
Recipes by Dietary