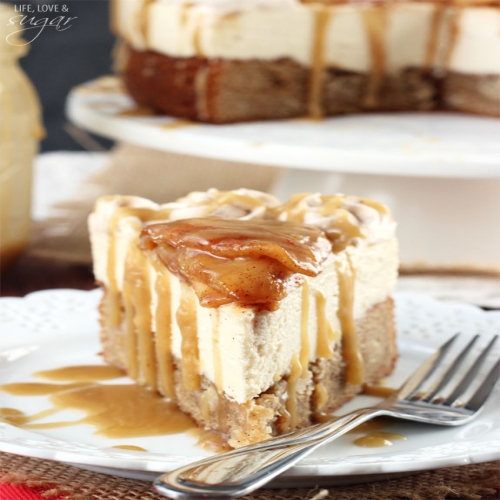 Prep Time:
Cooking Time:
Serves:
Caramel Apple Blondie Cheesecake.
Category: Holiday, Kids, Eggs, Cheesecakes, Apples
Ingredients List
Apple Spice Blondie
3/4 cup butter
1 1/2 cup brown sugar
3 tsp vanilla
1 egg
1 egg white
1 1/2 cup flour
1/2 tsp cinnamon
3/4 tsp apple pie spice
3/4 tsp baking powder
1/4 tsp baking soda
1/4 tsp salt
1/2 apple, chopped
Caramel Cheesecake
16 oz cream cheese, room temperature
1/2 cup sugar
1/2 cup brown sugar
3/4 cup caramel sauce*
1/2 tsp apple pie spice
4 oz cool whip
Cinnamon Apples
1 1/2 apples, thinly sliced
2 tsp lemon juice
pinch of nutmeg
1 tsp cinnamon
4 tbsp brown sugar
1 tbsp butter
Cinnamon Whipped Cream
1/2 cup heavy whipping cream
1/4 cup powdered sugar
1/4 tsp cinnamon
Directions
1. Line the bottom of a 9 inch springform pan with parchment paper and grease the sides. Preheat oven to 350 degrees.
2. Melt the butter in a microwave safe bowl, then transfer to a mixing bowl.
3. Add brown sugar and whisk to combine.
4. Add the vanilla, egg and egg white and whisk until incorporated
5. In another bowl, combine dry ingredients.
6. Slowly add dry ingredients to wet ingredients until combined.
7. Fold in finely chopped apples.
8. Pour batter into springform pan and bake for 30-33 minutes.
9. Allow to cool for about 5 minutes, then remove to finish cooling.
10. Make the caramel sauce and allow to cool completely.
11. Once the blondie and caramel are cool, make the cheesecake. Beat cream cheese and sugars until smooth.
12. Add about 3/4 cup of caramel sauce and apple pie spice and mix until combined.
13. Fold in Cool Whip.
14. Place blondie back into the springform pan.
15. Spread cheesecake evenly on top of blondie, then put in refrigerator until firm about 3-4 hours.
16. Combine apples, lemon juice, nutmeg, cinnamon and brown sugar in a medium saucepan and toss to coat.
17. Add butter and cook apples on medium-high for about 15-20 minutes, or until at preferred softness.
18. Allow apples to cool for 10-15 minutes, then put on top of cheesecake.
19. To make cinnamon whipped cream, freeze a metal bowl and whisk attachment for 10-15 minutes.
20. Remove bowl from freezer, add heavy whipping cream, and whip on high speed until it begins to thicken.
21. Add powdered sugar and cinnamon and whip until it you get stiff peaks.
22. Pipe whipped cream around edges of cheesecake.
23. Drizzle more caramel sauce over finished cheesecake, if desired.
Recipes by Course
Recipes by Main Ingredient
Recipes by Cuisine
Recipes by Preparation
Recipes by Occasion
Recipes by Dietary