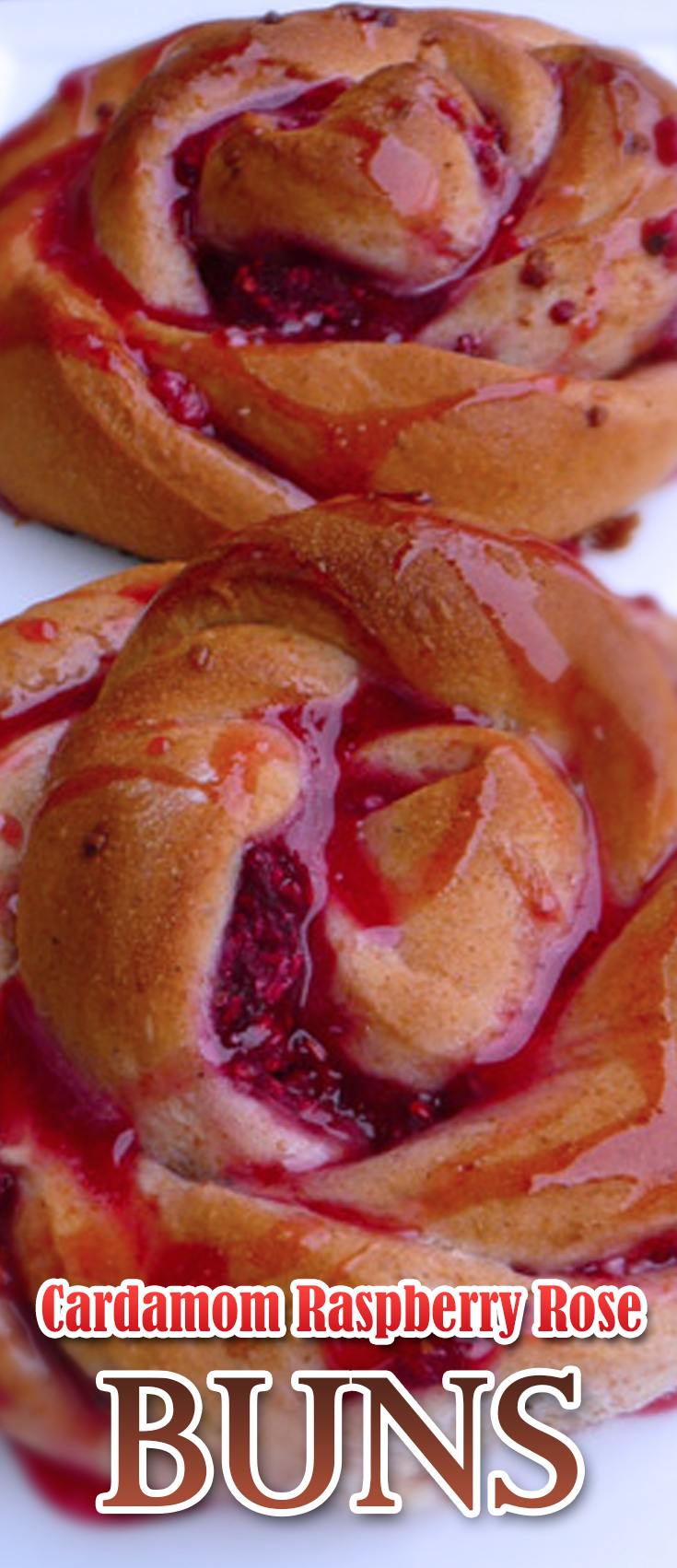 Prep Time:

45 mins

Cooking Time:

20 mins

Serves:

18 buns
Cardamom Raspberry Rose Buns
Recipe Submitted by

maryjosh

on

11/06/2019
Ingredients List
3 T. butter, melted
1 1/4 c. lowfat milk
1 egg
1/2 teaspoon salt
1 Tablespoon yeast (or one package active dry yeast)
1/3 - 1/2 cup sugar
3/4 t. ground cardamom
3 cups bread flour
1 cup whole wheat flour
For the filling:
About 1/2 cup raspberry jam (whatever kind you like)
1 cup or so of frozen raspberries (you can use fresh if you prefer, but you'll need more), thawed
a sprinkle of cardamom
a sprinkle of cinnamon sugar
For the glaze:
1/4 cup raspberry juice (from the thawing berries)
1/2 cup powdered sugar
a little squeeze of lemon or kumquat
Directions
Melt the butter, then stir in a bit of the cold milk to cool it down. Let it cool a while to make sure it's cooled completely. Put it in the bread machine along with the rest of the ingredients and turn it onto the "dough" setting.

Thaw the raspberries. Typically there will be some juice from the thawing berries ... drain that juice off into a separate bowl for making a pretty red glaze for the top.
When the dough is ready, dump it out onto a clean flat floured surface. Roll the dough out into as flat and thin of a rectangle as you can manage. If it doesn't want to cooperate and keeps pulling back into itself, roll it out as best you can, cover it and let it rest for 5 minutes and try again. If it's still stubborn, repeat. Each time, the dough will "soften" and let you push it a little further.

Once you've got the dough into a nice big rectangle, decide whether you want to go vertical or horizontal and make an imaginary line down the center. Spread some jam on everything below that line, then top with raspberries.

Fold the other side of the dough over the top of the gooey raspberry side, then use a knife to make long thin strips of dough with raspberry goo in the middle. Each strip should be about 3/4 inch wide and several inches long.

Take a strip of dough and twist it.

Then roll it into a round shape, tucking the ends underneath the bun, like so. The buns are quite forgiving if you don't get everything perfectly "tucked"

Spray a couple large baking sheets with cooking spray and set the bun on the sheet. Repeat to make the rest of the strips into buns. Set in a warm place and let rise for 30 mins to 1 hour, until the buns look nice and puffy.
Bake at 350 for about 15 - 20 minutes or until browned on top and the buns look "done".

In a small bowl, mix the glaze ingredients together till well mixed and drizzle the glaze over the top of the buns.
Recipes by Course
Recipes by Main Ingredient
Recipes by Cuisine
Recipes by Preparation
Recipes by Occasion
Recipes by Dietary