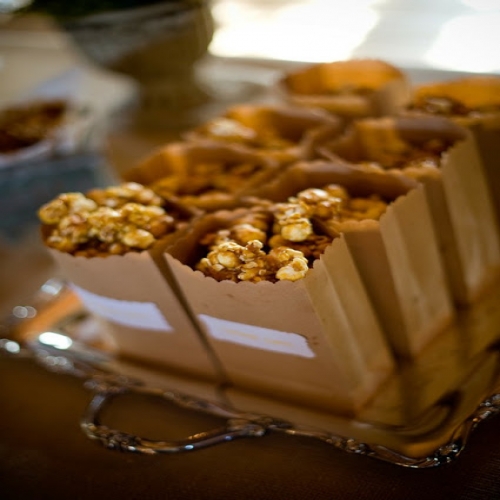 Prep Time:
Cooking Time:
Serves:
Carrie's Honest-to-Goodness Caramel Corn
Category: Snacks, Holiday
Ingredients List
10-12 cups plain air popped popcorn (Orville Redenbacher kernels really are the best)
2 sticks of salted butter
2 cups light brown sugar
1/2 cup corn syrup
1 tsp sea salt (you could use table salt)
1/2 tsp baking soda
1 tsp good vanilla (preferable La Vencedora)
1-2 cups pecans, walnuts or peanuts (optional)
Directions
1. Heat the oven to 200 degrees.

2. Melt the butter in a medium sauce pan. Add the brown sugar, corn syrup and salt and bring to a boil and then turn the heat down to a simmer. Set the timer and cook for 4 minutes. Take the pan off the heat and add the baking soda and vanilla and stir rapidly while it foams up. Immediately pour over the popcorn and mix quickly with a spatula to cover all of it with the caramel.

3. Pour popcorn onto a baking sheet and put in the oven for 25 minutes. Stir well and put it back in for a couple more 25 minute intervals until bronze in color (about 1+ hours of cooking time.) You can taste test done-ness by seeing if a popcorn kernel is crunchy when cooled. You are really going to have to test out your oven temperature and time. Sometimes I do it at 300 degrees and stir every 15-20 minutes to speed up the cooking time. Pour onto parchment or wax paper (not foil or it will stick) and break up large pieces with your spatula. Let cool and enjoy!
Recipes by Course
Recipes by Main Ingredient
Recipes by Cuisine
Recipes by Preparation
Recipes by Occasion
Recipes by Dietary