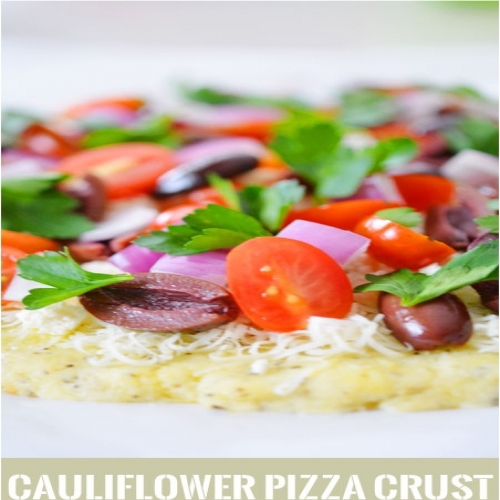 Prep Time:
Cooking Time:
Serves:
Category: Lunch/Snacks, Eggs, Pizza, Cauliflower
Ingredients List
1 small head or 2/3 large head of cauliflower
¼ cups Parmesan Cheese
¼ cups Monterey Jack Cheese
¼ teaspoons Sea Salt
½ teaspoons Dried Basil
½ teaspoons Dried Oregano
½ teaspoons Garlic Powder
1 Egg
Directions
1. Wash and thoroughly dry the cauliflower.

2. Cut off the florets. You don"™t need the stem.

3. Pulse in the food processor until you get cauliflower "snow". You should end up with 2 to 3 cups.

4. Cover the cauliflower and microwave for about 4 or 5 minutes.

5. Dump the cauliflower out onto a paper towel and clean tea towel and let it cool off.

6. Preheat the oven to 450ºF. Place your cookie sheet in the oven to heat it up.

7. Wrap up the cauliflower in the dish cloth and paper towel and wring out as much excess water as you can.

8. Combine the Parmesan cheese, Monterey Jack cheese, sea salt, dried basil, dried oregano, garlic powder, and cauliflower in a medium bowl.

9. Mix it together with a spoon to combine the ingredients. Then add the egg and use your hands to form it into a dough ball.

10. Pat it down gently onto a piece of parchment paper with oil spread (or sprayed) onto it.

11. Use your hands to form it into a pizza crust, about 1/4"³ thick.

12. Optional: Slide the parchment paper onto the heated up cookie sheet and bake the crust without any toppings for about 8 to 11 minutes until it is golden brown.

13. Remove from the oven and add your toppings. (I highly recommend spreading on a bit of olive oil and topping it with feta cheese, mozzarella cheese, kalamata olives, red onion, cherry tomatoes and parsley.)

14. Bake it for another 5 to 7 minutes with your toppings on it.

15. Note: If you are only going to bake it once, leave it in for about 15 to 17 minutes.

Recipes by Course
Recipes by Main Ingredient
Recipes by Cuisine
Recipes by Preparation
Recipes by Occasion
Recipes by Dietary