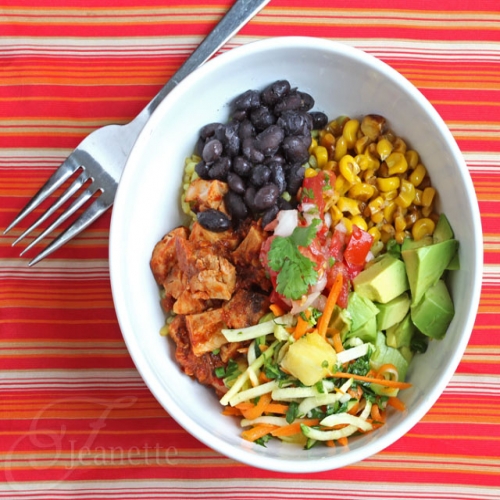 Prep Time:

1-hour

Cooking Time:

45-minutes

Serves:

4-6 servings
Cha Cha Bowl (Chicken and Black Bean Rice Bowl)
Category: Dinner Party, Tomatoes, Rice, Beans, Chicken
Ingredients List
Pineapple and Zucchini Salsa
1 small zucchini, shredded
1 carrot, shredded
1/4 pineapple, chopped
1 scallion, chopped
2 tablespoons cilantro leaves chopped
1 small garlic clove, minced
1 Thai chili or 1/2 jalapeno pepper, seeded, finely chopped
1 tablespoon rice wine vinegar
2 teaspoons extra virgin olive oil
Salt to taste
Brown Rice
1 tablespoon olive oil
1/2 onion, finely chopped
2 cloves garlic, finely minced
2 cups medium-grain brown rice
3 1/2 cups water
1/4 teaspoon salt
Al Pastor Adobo Marinade:
4 dried hot chilies
6 dried mild chilies (I used New Mexico chilies; ancho chilies would also work)
2 chipotle chiles, seeded
3/4 cup white vinegar
3/4 cup pineapple juice
2/3 cup water
1 teaspoon black pepper
1/2 teaspoon organic sugar
1/4 yellow onion, chopped
2 cloves
1/4 piece cinnamon stick
1/2 teaspoons salt
4 garlic cloves
2 teaspoons dried oregano
2 teaspoons ground cumin
2 pounds boneless chicken breast or thighs
Fresh Tomato Salsa:
2 cups fresh tomatoes, chopped
1/2 cup onion, finely chopped
1 clove garlic, minced
1 jalapeno pepper or Thai chili pepper, seeded, minced
2 tablespoons fresh cilantro, chopped
1/8 teaspoon salt
Other Toppings
1 cup cooked Black Beans
1 cup Roasted Corn
1 cup avocado, diced
Directions
Pineapple and Zucchini Salsa

1. Mix all ingredients together in a bowl. Season with salt, to taste. Refrigerate, covered, until ready to use. Bring to room temperature just before serving.

Brown Rice:

1. Heat oil in a medium pan. Add onion and garlic and saute until onion is translucent. Add rice and cook about 2-3 minutes or until rice gets a little toasty.

2. Place rice in a rice cooker, and add water and salt. Cook on brown rice setting. Fluff just before serving.

3. Al Pastor Adobo Marinade

4. Place chiles in a pan and cover with water. Bring to a boil and cook until softened. Remove stems and seeds and transfer softened chiles to a food processor.

5. Add all remaining ingredients, except chicken, and puree until smooth. Cover chicken in marinade. Let marinate at least 1 hour and preferably overnight. Remove chicken from marinade; reserve marinade.

6. Place marinade in a small saucepan and cook until slightly reduced. Set aside.

7. Preheat a grill. Grill chicken until cooked through. Cut into cubes.

Fresh Tomato Salsa

1. Mix all the ingredients for Fresh Tomato Salsa together in a small bowl. Drain excess liquid.

To serve

1. In 4 or 6 serving bowls, scoop a spoonful of rice into the bowl. Arrange Chicken, Pineapple and Zucchini Salsa, Black Beans, Fresh Tomato Salsa, and Roasted Corn on top of rice.

2. Spoon some cooked chicken marinade on top of chicken if desired.
Recipes by Course
Recipes by Main Ingredient
Recipes by Cuisine
Recipes by Preparation
Recipes by Occasion
Recipes by Dietary