Side Pannel
Cheese, Black Beans, and Corn-Stuffed Sweet Potatoes with Avocado Crema (vegan, gluten-free) Recipes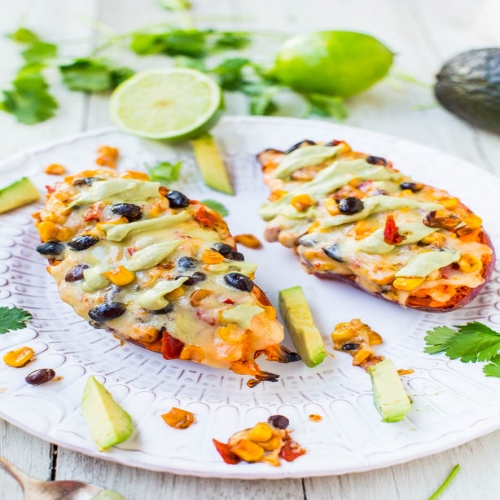 Prep Time:

10 minutes

Cooking Time:

7 to 10 minutes

Serves:

1-servings
Cheese, Black Beans, and Corn-Stuffed Sweet Potatoes with Avocado Crema (vegan, gluten-free) Recipes
Recipe Submitted by

Herb

on

11/20/2014
Category: Healthy Recipes, Peppers, Corn
Ingredients List
=============Sweet Potato and Filling===========
1 medium/large sweet potato
heaping 1/2 cup corn and black bean salsa (I used Trader Joe's Cowboy Caviar Salsa, or use a similar chunky corn and bean salsa; or use about 1/4 cup cooked/canned black beans and 1/4 cup cooked frozen/canned corn)
salt and pepper, optional and to taste
heaping 1/4 cup shredded cheese blend (Mexican, Pepper Jack, Monterrey, vegan cheese, etc.)
===============Avocado Crema=================
1 medium ripe Hass avocado, peeled and de-seeded, reserving a small portion for garnishing
1/4 cup sour cream (or vegan sour cream)
2 tablespoons lime juice (from about medium 1 lime)
pinch salt, to taste
water, if necessary
cilantro, optional for garnishing
Directions
1. Sweet Potato and Filling - Pierce potato with fork a few times before cooking in microwave on high power for about 7 minutes (medium) to 10 minutes (large). Cook until fork tender and done; don't overcook because potato will be broiled briefly. I micro 1 potato for 7- 10 minutes, and 2 potatoes for about 10-13 minutes. This varies by potato size and micro strength. Alternatively, roast potatoes in a 375F oven for about 45 minutes, or until fork tender and done.

2. While potato is in micro, preheat oven to broiler setting.

3. Remove potato from micro and slice in half lengthwise on a cutting board.

4. Hollow out a center column of each half with a spoon. I don't remove any flesh, but just redistribute it so the center column is a bit shallower to make room for the filling, and there's more flesh built up around the edges.

5. Place the halves on a non-stick baking sheet.

6. Evenly divide the corn and bean salsa between each potato half.

7. Optionally add salt and pepper to taste

8. Evenly top each potato half with cheese.

9. Broil for about 3 minutes, or just until cheese begins to melt and is bubbly. Keep a very close eye on them so they don't burn. Remove from oven and set aside to cool momentarily. While potatoes cool, make the avocado crema.

10. Avocado Crema - In the canister of a food processor or blender (mini food processors work great here), combine most of the avocado (reserving a small portion of chunks or slices for garnishing and set it aside), sour cream, lime juice, salt to taste, and blend until smooth and creamy. If mixture is thick, add water 1 tablespoon at a time until desired consistency is reached. Drizzle avocado creama over potato.

11. Garnish with reserved avocado and optional cilantro.

12. Potatoes are best enjoyed warm and fresh. Extra avocado crema will keep airtight in the refrigerator for up to 24 hours, noting that some oxidation will occur.


Recipes by Course
Recipes by Main Ingredient
Recipes by Cuisine
Recipes by Preparation
Recipes by Occasion
Recipes by Dietary