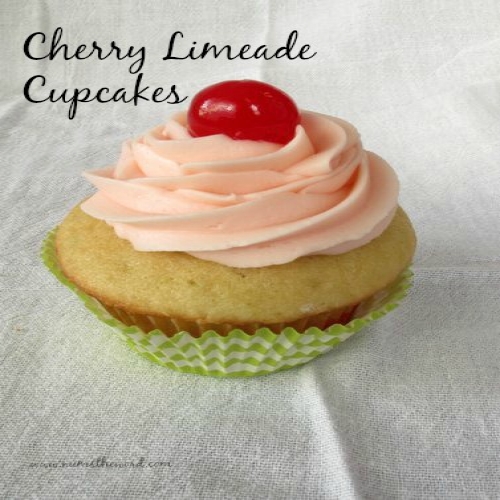 Prep Time:
Cooking Time:
Serves:
Ingredients List
1 1/2 cups flour
1/2 teaspoon baking powder
1/2 teaspoon baking soda
1/2 teaspoon kosher salt
1/2 unsalted butter, softened
1 cup sugar
2 eggs
1/2 cup 7-up
1/2 cup sour cream
1 teaspoon vanilla
1 tablespoon maraschino cherry juice
Red food coloring
1 recipe cherry limeade frosting
12 maraschino cherries, pat dry with paper towel
Directions
1. Preheat oven to 350 degrees. Line 12 standard muffin cups with paper liners.

2. In medium bowl whisk together flour, baking powder, baking soda and salt, set aside.

3. In a small bowl, mix together 7-up and sour cream together and set aside.

4. In the bowl of an electric mixer with a paddle attachment, cream the butter and sugar until light and fluffy, about 2 minutes.

5. Scrape down the sides and add eggs one at a time, mixing after each addition.

6. Keeping the mixer on low and slowly add half of the flour mixture, then add 7-up mixture, and finally the rest of the dry ingredients.

7. Add the vanilla and mix, scraping down the sides to make sure everything is incorporated, although it might look lumpy.

8. Take 1/2 cup of the batter and put in a small bowl and add the cherry juice and enough food coloring to turn the batter red. Stir well.

9. Divide the red batter and divide equally among the prepared muffin cups (about 1 big teaspoon).

10. Spoon the rest of the batter over top of the red, trying not to mix the two colors.

11. Bake for 15-20 minutes or until the tops are slightly springy and toothpick test comes out clean.

12. Let cool in the pan about 5 minutes then move to a cooling rack.

13. While cupcakes are cooling, prepare the frosting.

14. After frosting, top with maraschino cherries.
Recipes by Course
Recipes by Main Ingredient
Recipes by Cuisine
Recipes by Preparation
Recipes by Occasion
Recipes by Dietary