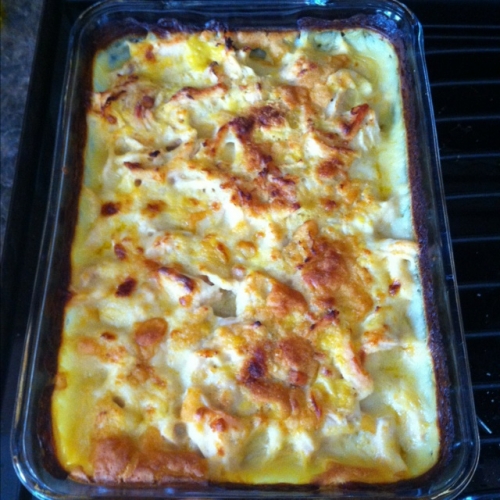 Prep Time:

15 Minutes

Cooking Time:

45 Minutes

Serves:

8-12 Servings
Chicken and Dumpling Bake
Category: Main Dish, Chicken
Ingredients List
3-4 cups of cooked chicken
1/4 cup (1/2 stick) of unsalted butter
1 cup of self-rising flour
1 cup of milk
2 cups of chicken stock/broth (low sodium is best)
1 can of Campbell's original condensed cream of chicken soup
Directions
If you are using fresh, raw chicken, please see cook's notes at the bottom of the recipe. Preheat the oven to 400 degrees F. Melt 1/2 stick of butter and pour into the bottom of a 9 x 13 inch baking pan. Shred the chicken and spread it on top of the butter. In a separate bowl, whisk together the milk and the flour and slowly pour that over the chicken taking care not to disturb the chicken too much. Do not stir. Whisk together the chicken broth and the cream of chicken soup. Slowly pour that over the flour and milk mixture. Do not stir.

Bake uncovered at 400 degrees F for 35 to 45 minutes, or until top is light golden brown. All ovens vary. Let casserole rest before serving.

Cooks Notes: Use rotisserie chicken, leftover precooked chicken, canned chicken or 3 to 5 pieces of raw chicken - chicken breasts, mixed chicken parts. When using other sources of chicken other than freshly cooked, such as canned or a pre-cooked rotisserie chicken, they are already fairly salty, so keep that in mind with the other products you are using containing sodium (broth, soup). To substitute all purpose flour, use 1 cup of flour and add 1-1/4 teaspoon of baking powder plus 1/8 teaspoons of salt. Leftovers reheat nicely, but casserole does not freeze well.

How to Poach Raw Chicken: Heat 3 to 4 large boneless, skinless chicken breasts and 2-1/2 cups of chicken broth or stock in a medium sized saucepan. Cook on a low simmer for about 15 to 20 minutes or until chicken is mostly done. It will finish cooking in the oven. Remove the chicken and set aside to cool but reserve the broth from the saucepan. Once cooled, chop or shred. May also use water and bouillon in place of the broth.

Chicken Pot Pie Casserole: Make this an all-in-one meal by adding drained canned mixed veggies, or cooked/steamed frozen or fresh veggies. Cook 2 sliced carrots, 2 sliced celery stalks, a diced potato and a chopped onion, in about 3 cups of chicken broth. If using water and bouillon, may season the water with bay leaf, herbs or other non-salt seasonings. When the veggies are tender, drain but reserve the broth. Put the veggies on top of the shredded chicken and add about 1-1/2 cups of frozen peas. Finished as above, using the reserved broth from the veggies.
Recipes by Course
Recipes by Main Ingredient
Recipes by Cuisine
Recipes by Preparation
Recipes by Occasion
Recipes by Dietary