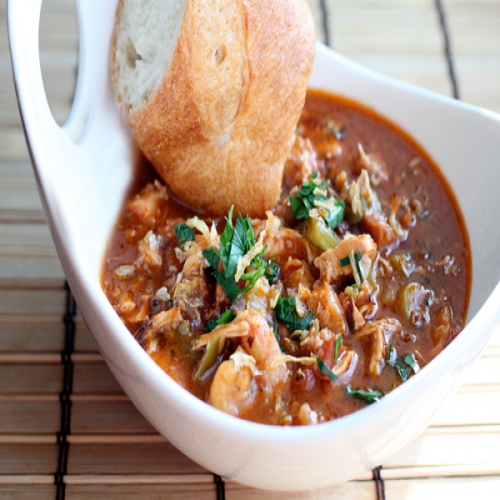 Prep Time:

25 Minutes

Cooking Time:

2 Hours

Serves:

6 Servings
Chicken, Andouille, and Shrimp Gumbo
Category: Chicken, Main Dish
Ingredients List
4 boneless, skinless chicken breasts, sliced into strips
4 links of andouille sausage, cut into small, bite-sized pieces
¼ cup of vegetable oil
½ cup of all-purpose flour
4 tbsp unsalted butter
1 cup of diced onion
1 bulb of garlic, minced
1 whole green bell pepper, seeds and stem removed, diced into bite-sized pieces
3 ribs of celery, cut into bite-sized pieces
2 tbsp worcestershire sauce
4 cubes of beef bouillon, diced
5 cups of hot water
1 cup of frozen okra
15 oz can of crushed tomatoes
20 shrimp (31-40 size), raw, deveined and shells off
2 tbsp flat leaf Italian parsley, diced
Store bought dried onions (optional)
Store bought fried garlic (optional)
Salt, to taste
Cracked black pepper, to taste
Frech bread or cooked rice
Directions
1. Sounds like a lot right? Well, don't worry. There's some initial work up front, but after that, it is pretty much smooth sailing as this one pot meal will slowly simmer on the stove and deliver some amazing smells. Did I tell you how amazing this gumbo tastes? Let's just say, it blew my wife away.

2. Begin by adding the oil to a large dutch oven, or large enough pot to hold all of these ingredients, factoring in the water. Once the oil is heated add in the chicken, and season with some salt and pepper. Cook the chicken on medium heat until both sides have browned, about 8 minutes or so.

3. Remove the chicken from the pot, and set it on a plate to cool.

4. Toss in the andouille sausage, and continue to brown that as well. The sausage will release a bit more fat, which is good, because we are going to use all of that to make a roux. Once the sausage has browned, remove it with a slotted spoon, and set it on a plate to cool.

5. Reduce the heat to medium low. Add two tablespoons of the unsalted butter to the pot, then toss in the flour. Stir with a wooden spoon, and continue to stir for about 8 minutes, or until the roux is a dark caramel color.

6. During this time, bring the water up to heat. You want it nice and hot, and not necessarily boiling.

7. When you have achieved that dark roux, add in the garlic, onions, bell peppers, and celery. Season with salt and pepper, and give it a good stir.

8. The mixture will look a bit gummy as the roux will stick to the vegetables. Don't worry about that, this is how it is supposed to look. Cook this for about 8 more minutes.

9. Add in beef bouillon, the worchestershire sauce, and the hot water. Give this a good stir, and continue to stir until the roux is completely dissolved into the water.

10. Take a look at this beauty. See what you have just created? That roux, along with the water. You now have this amazing thickener that plays an integral part in making amazing gumbo!

11. Dice the chicken into bite-sized pieces. Add the chicken and sausage back into the pot, and give a nice stir. Toss in the crushed tomatoes, and give another good stir.

12. Bring this to a boil, then reduce the heat to simmer. Cover, and cook for about 30 minutes.

13. After 30 minutes, add in the okra. Stir, cover, and simmer for about 1½ hours. The okra adds another role as well by adding just a bit more thickness to the gumbo. About 10 minutes before serving, add in the shrimp, and give another final stir.

14. I consider gumbo to be a nice soup or stew, and as many folks tend to eat it with cooked rice, my preference is to let the gumbo shine, and simply eat it with some warm french bread.

15. When you are ready to bowl, ladle in the gumbo, ensuring you get chicken, sausage, and shrimp, along with all of the other amazing vegetables. Top with fresh parsley and some of the fried onions and garlic.

16. The end result is nothing but amazing. It's true comfort in every bite. My wife had stated that eating it reminded her of being in a dark, New Orelean's restaurant, being served this lovely gumbo. I could not have agreed more. I hope you enjoy!

Recipes by Course
Recipes by Main Ingredient
Recipes by Cuisine
Recipes by Preparation
Recipes by Occasion
Recipes by Dietary