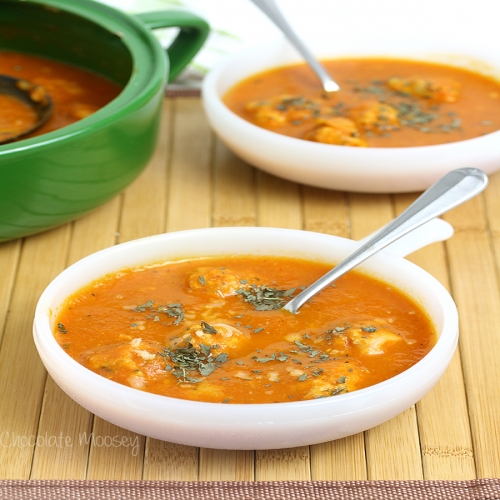 Prep Time:

30 Minutes

Cooking Time:

1 Hour

Serves:

4 Servings
Chicken Parmesan Meatball Soup
Category: Chicken, Soups
Ingredients List
:::::: Meatballs ::::::
1/4 cup + 1 tablespoon panko breadcrumbs or crushed cornflakes
1/2 pound ground chicken, thawed
1/4 cup finely chopped onion (roughly half a small onion)
1 clove garlic, minced
2 tablespoons parmesan cheese
1/2 teaspoon salt
1/2 teaspoon dried basil
1/2 teaspoon dried parsley
:::::: Soup ::::::
1 tablespoon olive oil
1 tablespoon butter
1/2 cup chopped onion (roughly half a medium onion)
1/4 teaspoon salt
1/4 teaspoon ground black pepper
1/8 teaspoon dried basil
1/8 teaspoon dried oregano
1/8 teaspoon dried thyme
1/8 teaspoon paprika
2 garlic cloves, minced
2 tablespoons tomato paste
28 ounces canned tomatoes with juice
2 cups + 1 cup chicken broth
1/4 cup shredded mozzarella cheese (plus more to garnish)
Directions
For the meatballs:

In a small bowl, add 1/4 cup panko/corn flakes.
In a large bowl, mix together the chicken, onion, garlic, parmesan cheese, salt, remaining 1 tablespoon panko/corn flakes, basil, and parsley. Make 1-inch meatballs then roll into the panko/corn flakes. Place on a plate or tray. Keep refrigerated while you make the soup.*


For the soup:

In a large Dutch oven, heat up the oil and butter until melted. Add the onion and cook until soft, 5-8 minutes. Add the salt, pepper, basil, oregano, thyme, paprika, garlic, and tomato paste. Stir all together and cook another 5 minutes. Add the tomatoes and 2 cups broth. Bring a boil then turn down to a simmer and cook 30 minutes.
Add the soup mixture to a blender and puree until smooth. Be careful - because the mixture is hot, it will expand greatly in the blender when you turn it on. If needed, puree in two batches. Add back to the pot with the remaining 1 cup broth and bring to a boil.
Once boiling, add the meatballs. Cook 7-10 minutes or until the meatballs are fully cooked. Stir in the cheese until melted. Serve in bowls and garnish with extra mozzarella cheese.

Recipes by Course
Recipes by Main Ingredient
Recipes by Cuisine
Recipes by Preparation
Recipes by Occasion
Recipes by Dietary