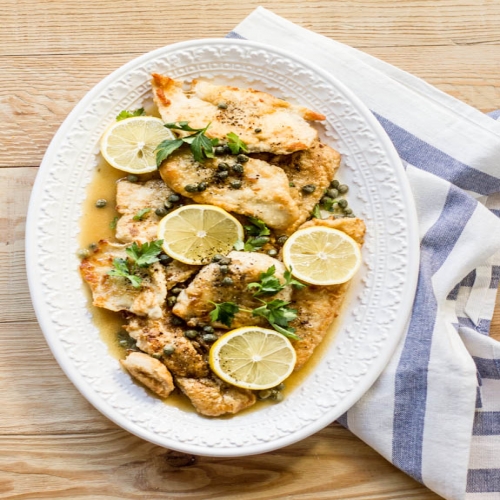 Prep Time:

10 minutes

Cooking Time:

20 minutes

Serves:

4
Category: Dinner Party, Healthy Recipes, Main Dish, Chicken
Ingredients List
Chicken
1½ lbs. boneless, skinless chicken breasts or thinly sliced chicken cutlets
½ c. flour + 1 heaped teaspoon, divided
1 tbsp. olive oil
2 tbsp. butter, divided
¼ c. shallots, diced
1 garlic clove, finely minced or crushed with a garlic press
¼ c. white wine
1½ c. chicken stock or broth
2 lemons
¼ c. brined capers, drained
salt + pepper
Garnish
lemon slices
¼ c. fresh flat-leaf parsley, roughly chopped
Cracked wheat + spinach
1½ c. instant bulgur wheat
1½ quarts chicken stock or broth
1 bag baby spinach
Directions
1. Bring a large pot of chicken stock (or broth) to a boil. Cook the bulgur wheat according to the package instructions. Drain and return to the pot. Add 2 large handfuls of spinach and stir; the residual heat will gently wilt the greens. Add more spinach if desired. Cover until ready to serve.
2. Add ½ c. flour to a shallow bowl; add the remaining 1 heaped teaspoon to a separate bowl to thicken the sauce.
3. Butterfly the chicken by slicing each breast in half horizontally. Place in between 2 sheets of parchment paper (or plastic wrap). Gently pound with a meat mallet to about ½ inch thick. *If using thinly sliced chicken cutlets, skip this step.
4. Season the chicken with salt and pepper.
5. Dredge the chicken in flour shaking off any excess.
6. In a large skillet, warm the olive oil and 1 tablespoon of butter over medium heat. Add the chicken and brown on both sides, about 3-4 minutes per side. Work in batches if necessary.
7. Remove the chicken to a plate an cover with foil to keep warm.
8. Add the shallots to the pan; if it seems a bit dry, add a splash of olive oil. Saute until soft, but not colored, about 2 minutes.
9. Add the garlic and cook until fragrant, about 30 seconds.
10 Add the wine and bring to a boil, scraping up any brown bits stuck to the bottom of the pan. Reduce the liquid by half.
11 Add the chicken stock and bring to a boil. To thicken the sauce, add a splash of stock to the reserved 1 teaspoon of flour and whisk well to dissolve any lumps. Add the flour mixture to the pan, whisking constantly until the sauce is slightly thickened.
12 Reduce to a simmer and stir in the remaining 1 tablespoon of butter.
13. Add the juice of half a lemon and sprinkle in the capers.
14. Return the chicken and any accumulated juices to the pan.
15. Taste the sauce; season with extra lemon juice, salt and pepper if desired.
T16. o serve, transfer the chicken to a serving platter and top with the sauce.
17. Garnish with lemon slices and fresh parsley.
18. Serve with cracked wheat and spinach on the side.

Recipes by Course
Recipes by Main Ingredient
Recipes by Cuisine
Recipes by Preparation
Recipes by Occasion
Recipes by Dietary