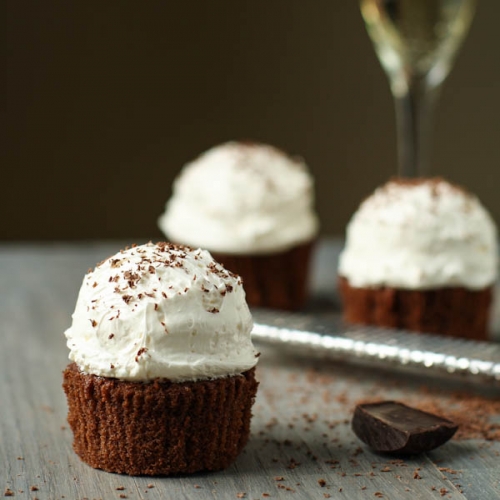 Prep Time:
Cooking Time:
Serves:

24-servings
Chocolate Ganache Cupcakes.
Category: Holiday, Eggs, Cakes, Chocolate
Ingredients List
===========Cake=================
1¼ cups plus 2 tablespoons all-purpose flour, sifted
½ cup unsweetened cocoa powder
1½ teaspoons baking powder
1 teaspoon salt
1 cup half and half
1 tablespoon vanilla extract
1½ sticks unsalted butter at room temperature
1¾ cup extra-fine granulated sugar
4 large eggs
=============Ganache=================
¾ cup dark chocolate chips
½ cup whipping cream
Directions
=============Cake==============

1. Preheat your oven to 350 degrees.

2. Line your pan with cupcake liners.

3. Whisk dry ingredients (flour through salt) together in a bowl. Stir together half and half and vanilla extract in another bowl and set aside. Add your sugar and butter to the bowl of your stand mixer. Crack the eggs, place them in a bowl and set aside.

4. Using the paddle attachment on your stand mixer, combine the butter and sugar on low for 3-5 minutes.

5. Add the eggs one at a time, making sure they are well-incorporated before adding the next. Once the eggs are combined, stop the mixer and scrape the sides of the bowl.

6. Turn the mixer back on low and alternate the dry and liquid ingredients ending with the dry ingredients. Work quickly so the batter doesn't become tough. This should probably take about a minute total.

7. Stop the mixer again and scrape the sides and bottom of the bowl. Mix the batter on medium for another 20 seconds.

8. Fill the cupcake liners with about 2 ounces of batter. An ice cream scoop with a trigger release works well for this.

9. Bake for 20-22 minutes or until a toothpick test comes out clean.

10. Cool for 5 minutes before removing cupcakes from the pan and cooling on a rack.

===============Ganache=====================

1. Place the chocolate chips in a heat safe bowl.

2. Heat the whipping cream to a simmer over medium heat.

3. Once the cream is simmering, pour it over the chocolate chips. Let it set for 10-15 seconds to melt the chocolate and then whisk until smooth.

4. Ganache will thicken as it sets and may be used after it has cooled for at least 20 minutes.

===========Assembling the cupcakes==============

1. Using a paring knife, cut a cone out of the center of the cupcake and set aside.

2. Fill the hole in the cupcake with about 1 tablespoon of ganache. Repeat with remaining cupcakes and place them in the freezer for 5 minutes to allow the ganache to firm up.

3. Remove the cupcakes from the freezer and put the cake "cone" you took out back in each cupcake.

4. Frost your cupcakes with the Italian Meringue Buttercream any way you like. I used that handy 2-ounce trigger scoop from the cake batter step.

5. Refrigerate your cupcakes if not eating immediately. Allow them to come to room temperature before serving.


Recipes by Course
Recipes by Main Ingredient
Recipes by Cuisine
Recipes by Preparation
Recipes by Occasion
Recipes by Dietary